Have you ever struggled to locate the ideal Mother's Day card words? Or do you suffer from severe writer's block and require creative stimulation? With HyperWrite AI, you are about to experience the incredible benefits of adopting AI technology in your daily writing duties.
HyperWrite AI is an AI writing assistant that facilitates the production of high-quality content. From marketing copy to blog posts to everyday business communications, HyperWrite AI's extensive feature set can be customized to your requirements, integrated into your workflow without disruption, and utilized to streamline the writing process.
This article explains everything you need to know about this content generation tool, including its price, how to get started with the platform, and how it compares to its competitors.
Therefore, let's commence from the beginning and gain a better understanding of what HyperWrite AI is and what it can do!
Read More: QuillBot AI Co-Writer: Your Best Paraphrasing AI Writer
What is HyperWrite AI?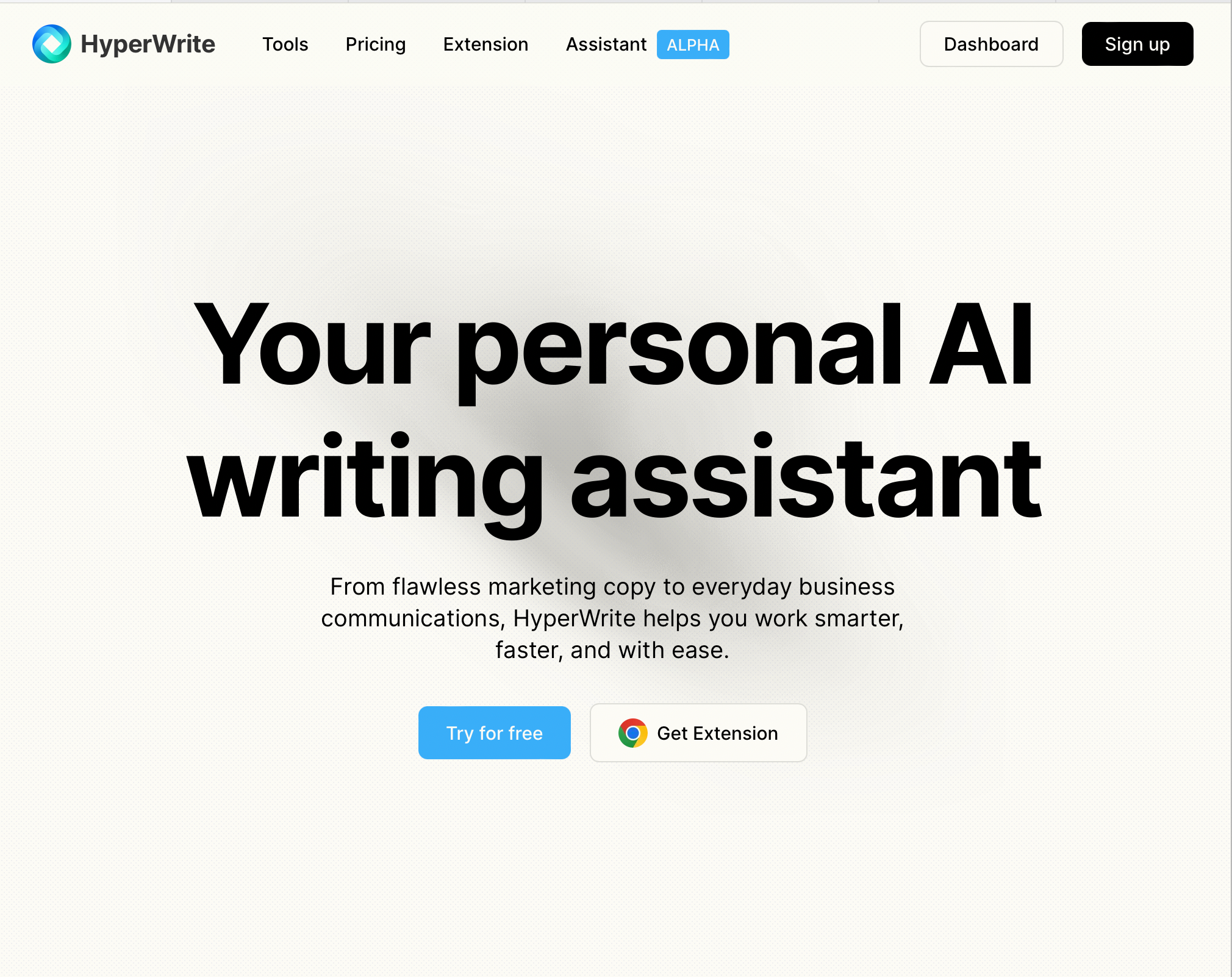 The AI-powered writing assistant HyperWrite AI employs artificial intelligence and machine learning to facilitate the writing process.
As an AI-powered writing assistant, HyperWrite AI is designed to help you with a variety of writing duties, such as creating marketing copy and managing routine business communications. Its suite of features enables you to work more efficiently, quickly, and effortlessly, thereby augmenting your overall writing experience.
And to personalize your content, HyperWrite provides a personal database feature via its HyperWrite Chrome extension, which enables you to use external documents to teach the platform your unique writing style.
By analyzing your writing style and preferences, the software can make more accurate suggestions and generate content that matches your desired tone of voice.
HyperWrite is proud to offer tools that cater to its core customers, and HyperWrite AI tools concentrate on the following areas:
Writing
Marketing
Content Creation
Business
Education
So what are the tools that will elevate your content creation process in each of these areas? Let's find out.
HyperWrite Writing Tools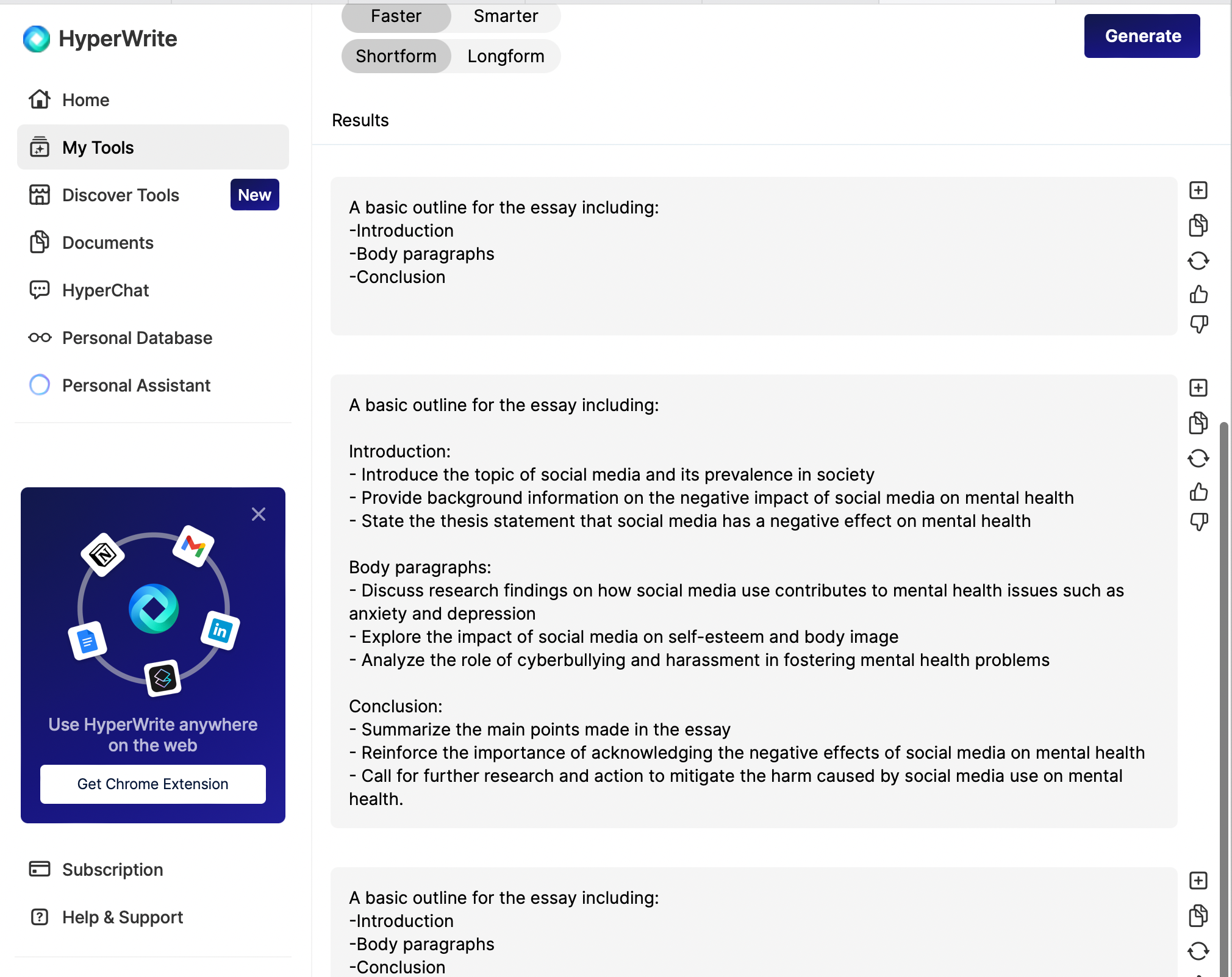 HyperWrite is a powerful and competent AI assistant for anyone in need of high-quality AI-generated content, and it provides a variety of AI writer tools, such as:
By entering your essay topic and thesis statement into the Generate Essay Outline AI writing tool, you can easily build a simple essay outline.
Use this tool to generate an advanced and well-written introductory paragraph for your academic essay by entering your topic and thesis statement.
Give the tool blog post subjects and blog post openers, and it will create helpful outlines with catchy titles, body paragraphs, conclusions, and calls to action. This tool is ideal for bloggers.
Use this program to automate your blogging to make it quick and easy. Watch the tool create an interesting blog post after entering your blog topic and the length you want your posts to be.
Rewrite Content – Make changes to a text while keeping the original context and meaning by using this tool. Additionally, you can educate the program on what to take into account when rewriting.
Author of creative storiesWith this tool, you can overcome writer's block by producing an imaginative story of up to 800 words by entering a prompt, genre, place, book title, and character names.
A scriptwriter should use this tool, "Movie Script Outline." The program will produce narrative points, character descriptions, and scene descriptions once you enter the genre, setting, and tone of the script.
These are some of the AI writing tools available on HyperWrite that provide AI writing assistance. For most HyperWrite tools, you'll be given the option to create short-form engaging content or long-form content.
select the 'Discover Tools' button in the navigation menu on the left and then select 'See All' under the writing tool options for a comprehensive list of writing tools.
HyperWrite Marketing Tools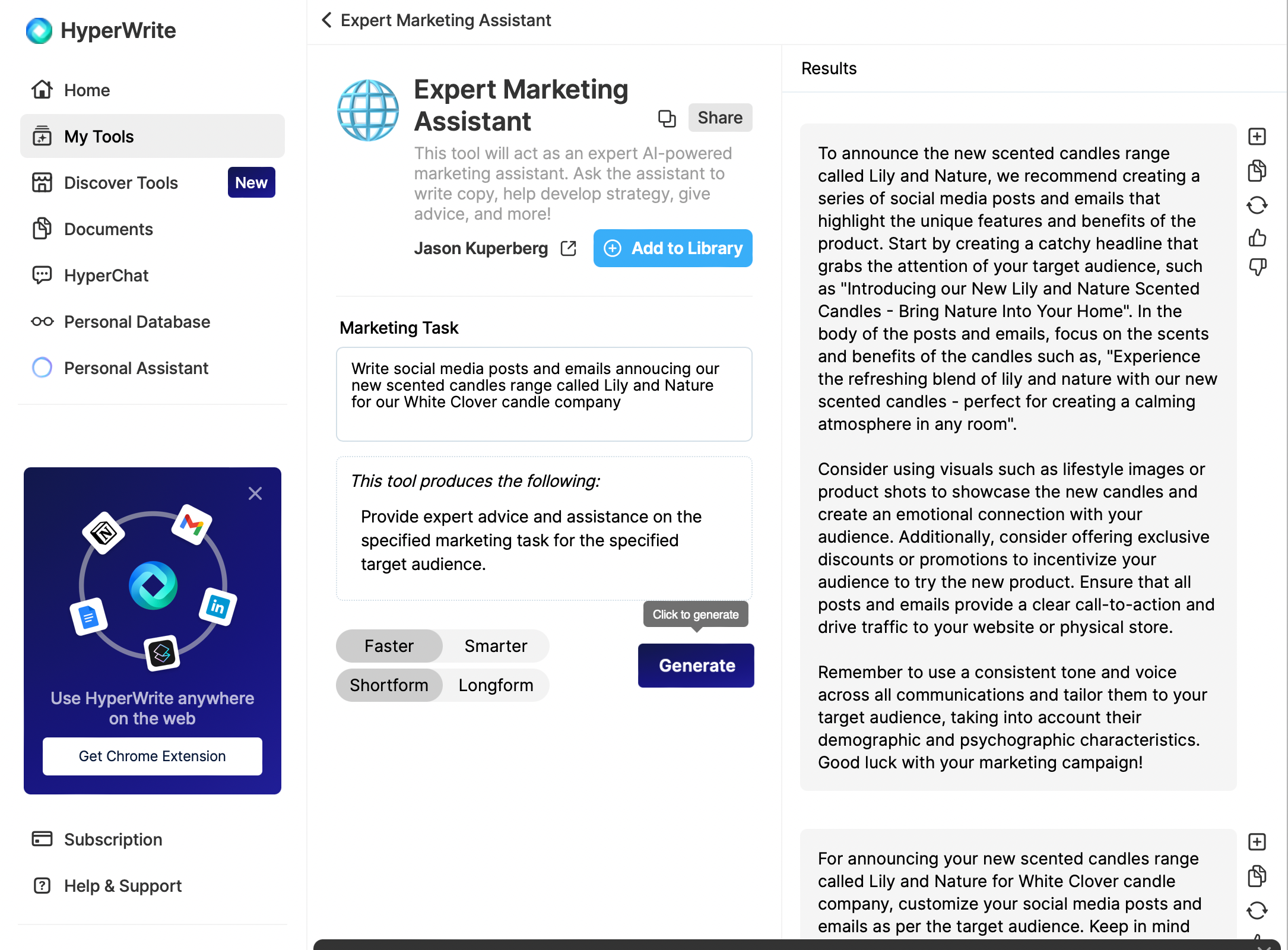 AI platforms are now a necessity for marketers, and it's simple to see why when you consider the high-quality marketing content that these platforms can generate.
For all of your marketing-related requirements, HyperWrite provides an impressive selection of marketing-specific tools. These instruments consist of:
Any marketer's go-to tool is the expert marketing assistant. Any marketing assignment, such as writing text or press releases, can be given to the tool, which will then produce professional guidance and help.
Use this tool to create memorable brand slogans for new enterprises that connect with their target market and help them establish a distinctive identity.
Proposal Generator – Using this application, you can quickly and easily create a winning business proposal. Simply include the business name and a summary or description of the proposal.
20 cold email subject lines to create this tool to produce customized suggestions for strong email subject lines that will get your emails opened and read to simplify your email marketing efforts.
Create a buyer's personaMarketing is centered on understanding your target audience. With the help of this tool, you can create a buyer persona for your target market that includes their demographics, goals and difficulties, values and anxieties, preferred channels for receiving information, and preferred information sources.
These are just a few of the marketing tools on HyperWrite that offer AI writing assistance. Clicking the 'Discover Tools' button in the navigation menu on the left and then clicking 'See All' under the marketing tool options will reveal an expanded selection of marketing tools.
HyperWrite Business Tools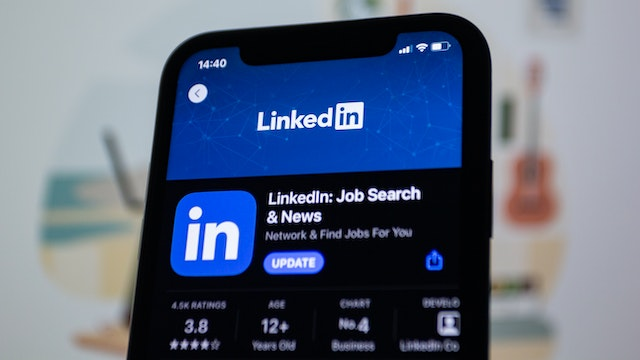 HyperWrite provides a comprehensive set of business tools designed to substantially simplify a variety of business tasks. These duties consist of:
LinkedIn's About Section – A solid LinkedIn profile could be the difference between landing your dream job and not. LinkedIn is an essential platform for professionals. Using this tool, you can create an impressive "About" section for your LinkedIn profile that will impress hiring managers in your industry.
CRM Follow-Up: Make follow-up communications for your customers in your CRM database with this application.
Generate Grant Proposals – Use this tool to create a good grant proposal outline if you need to write a persuasive grant proposal.
Resume Updater: This application modifies your current resume to meet the requirements of the position you are applying for.
Sales Script Creator – Use this tool to write a successful sales script. Simply enter your existing script and some background details to produce a script that closes deals.
More business tools can be found by clicking the 'Discover Tools' button in the navigation menu to the left and clicking 'See All' under the business tool options.
HyperWrite Education Features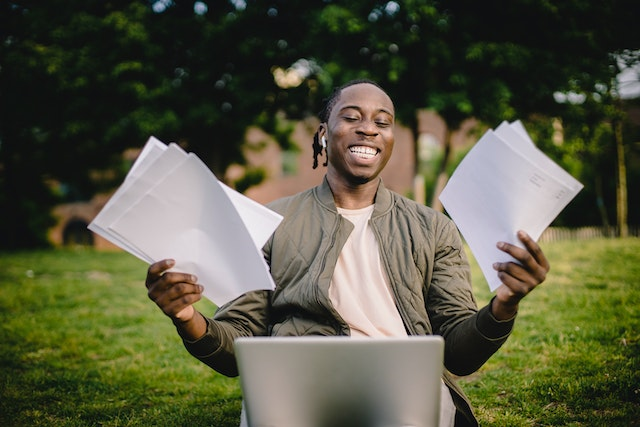 As with many AI writers, HyperWrite is a useful tool for both learners and educators. Education tools on offer include:
Do you find it difficult to understand quantum mechanics? Explain Like a 5 Year Old. With the aid of examples and analogies, this tool will provide you with a concise explanation of a difficult idea.
Use this tool to write study summaries that include the main results and conclusions from a research paper if you don't have time to read the entire document.
Legal Writing Refined – If you work in the legal sector or are a student of the law, you may use this tool to improve your legal writing by eliminating superfluous jargon and making your content simple to comprehend.
Writer of essaysA college-level academic essay will be produced by this tool. Simply provide a prompt, a few resources, and any additional notes, and the program will handle the rest.
Click on the 'Discover Tools' button in the navigation menu to the left and click 'See All' under the education tool options to see all the educational tools on offer.
HyperWrite Content Creation Features
Content creation is one of the fastest-growing and most profitable careers. HyperWrite AI offers a strong toolset for content creators with tools like:
Social Media Assistant – Do you need a caption or social media strategy? Use this personal assistant tool to help you with all your social media needs.
Tweet Generator – Input a tweet idea and have this tool generate an engaging tweet.
TikTok Script Writer – Use this tool to generate your next viral TikTok video. Just input a topic and have the tool generate a winning script.
Greeting Card Writer – Use this tool to create a lovely personalized note for a greeting card.
Enjoy additional content creation tools like an Instagram caption improver by checking out all the content creation tools on offer.
Additional HyperWrite Tools
Along with the tools already highlighted, there are some other fun tools available including:
Animal Name Creator
Wedding Card Ideas
Anniversary Card Maker
Baby Shower Cart Writer
Have fun exploring the extensive list of tools HyperWrite offers.
With all these super useful tools available, you might be wondering how much it costs to enjoy them all.
How Much Does HyperWrite Cost?
HyperWrite offers customers 3 plans: 1 free plan and 2 paid plans. Take a look at what each of the plans offers to help you decide which plan is best for you.
1. Free Plan
If you're new to HyperWrite AI and want to try it out, HyperWrite AI does offer a free version.
However, the free plan is very limited. It'll only give you 3 generations a month and 3,000 character inputs, along with other limitations.
If you need a more unlimited experience, HyperWrite's two paid options are also available.
2. Premium Plan
To unlock the potential of HyperWrite AI, you can opt for the Premium Plan at $19.99 per month. As a Premium member, you will enjoy premium features like:
Unlimited typeaheads, generations, and rewrites
400 assistant actions
5,000 character inputs
If you still want more features and fewer limits, the Ultra Plan might be the best option for you.
3. Ultra Plan
The ultra plan is HyperWrite's most robust plan and offers unlimited access at $44.99 per month. Along with enjoying all the benefits of the premium plan, ultra members will also benefit from:
1,000 assistant actions
Longer-term AI memory
7,000 character inputs
Priority support
Choose the plan that best suits your needs and get started on elevating your writing skills.
How to Get Started on HyperWrite
Once you have decided that HyperWrite is the platform for you, you can follow these easy steps to get set up and started with the service.
Go to the HyperWrite homepage.
Click the 'Try for free' button in the middle of the screen or the 'Sign up' button at the top right of your screen. Both buttons with take you to the sign-up page.
Click the 'Sign Up' option if you do not have an account and either sign up using your Google account or an email and password of your choice.
Click the checkbox to certify that you are over 18 and agree to the terms of service and then click the 'Sign Up' button.
Begin enjoying HyperWrite's services.
How to Subscribe to a HyperWrite Plan?
When you sign up, you will automatically join HyperWrite's free plan. If you wish to subscribe to HyperWrite's paid plans, follow these steps.
Sign in to your HyperWrite account.
On the homepage, click the 'Subscription' option in the navigation menu to the left.
Choose your desired plan and click the 'Get' button underneath that plan.
Fill out your card payment information and click the 'Subscribe' button.
Enjoy your new plan's services. Your card will be charged monthly until you cancel your subscription.
If you still have doubts about whether HyperWrite is the best choice for you, take a look at how it stacks up to some of its competition.
HyperWrite Alternatives
When we look at HyperWrite, there are usually two alternatives it is compared to, namely Copy AI and Jasper AI. Let's see how HyperWrite compares to these two options.
1. HyperWrite AI vs Copy AI
Copy AI is an AI writing assistant specifically aimed at marketing copy. While both platforms offer long-form content generation and both have free trials, there are areas where they differ.
Copy AI offers more content templates and offers multilingual support while HyperWrite currently only supports English.
HyperWrite on the other hand offers a Chrome extension that works with numerous platforms like Google Docs and Gmail while Copy AI does not. In addition, HyperWrite's paid plans are also cheaper than the plans offered by Copy AI.
2. HyperWrite AI vs Jasper AI
Jasper AI is another alternative for content creation and is used by an array of professionals and learners. Both have 50 templates and both offer browser extensions.
Unlike HyperWrite, Jasper offers AI art generation, pre-built workflows, and native integration with Surfer SEO.
However, HyperWrite offers more affordable pricing with a paid plan of $19.99 per month as opposed to Jasper's $24 per month.
Read More: 18 Best AI Marketing Tools and Tips for Your AI Marketing Strategy
Final Thoughts
HyperWrite emerges as a beacon of hope for all content authors in a world where words have great power. This AI personal writing helper enables you to produce high-quality content more quickly and efficiently because to its remarkable capacity to comprehend and adapt to different writing styles.
HyperWrite seamlessly combines the limitless potential of artificial intelligence with the human touch when creating engaging articles and popular TikTok videos.
And HyperWrite is undoubtedly deserving of the buzz because to its engaging UI and fantastic functionality. So give it a shot and start using the platform right away. Learn more about how AI is affecting business, employment, and education while you're at it.
Frequently Asked Questions
Is there a cost associated with using HyperWrite?
Yes. HyperWrite offers 3 plans, 1 free plan and 2 paid plans. The premium plan costs $19.99 per month while the more robust ultra plan costs $44.99 per month.
What are the primary uses of HyperWrite?
HyperWrite can be used for a variety of writing tasks, from creating blog posts and email content to summaries and Mother's Day cards.
The tool also provides assistance in enhancing your writing, communication, and research, making it a versatile choice for many professional and personal writing needs.
How does HyperWrite enhance writing quality?
HyperWrite's AI technology allows you to write smarter, faster, and with more precision. By generating relevant suggestions and improving grammar, spelling, and style, the tool helps improve your writing quality.
It also ensures that your content remains readable, concise, and well-structured for your target audience.