Have you ever finished writing a paper and wished that it had a somewhat more academic tone to it? Do you have trouble writing in English since it is your second language? Do you wish there was a tool that could make your writing sound more natural? Do you need to condense an article without taking anything away from its context? QuillBot AI is a platform that you should look into using if you fit any of the aforementioned categories, or if you're simply interested in acquiring a sophisticated AI writing tool.
QuillBot AI is a cutting-edge writing tool that makes use of artificial intelligence to provide its users with assistance in the process of writing, revising, and refining their written work. This sophisticated tool for paraphrasing has been developed with the purpose of improving writing by providing a variety of modes and features that may be utilized to ensure that the appropriate words are used in any given circumstance.
In this post, we will discuss QuillBot AI's capabilities and provide you with all of the information and assistance you need to get started using the platform right away. Before we do that, however, let's begin with the basics and examine what QuillBot AI is and how it operates.
Read More: 18 Best AI Marketing Tools and Tips for Your AI Marketing Strategy
What is QuillBot AI?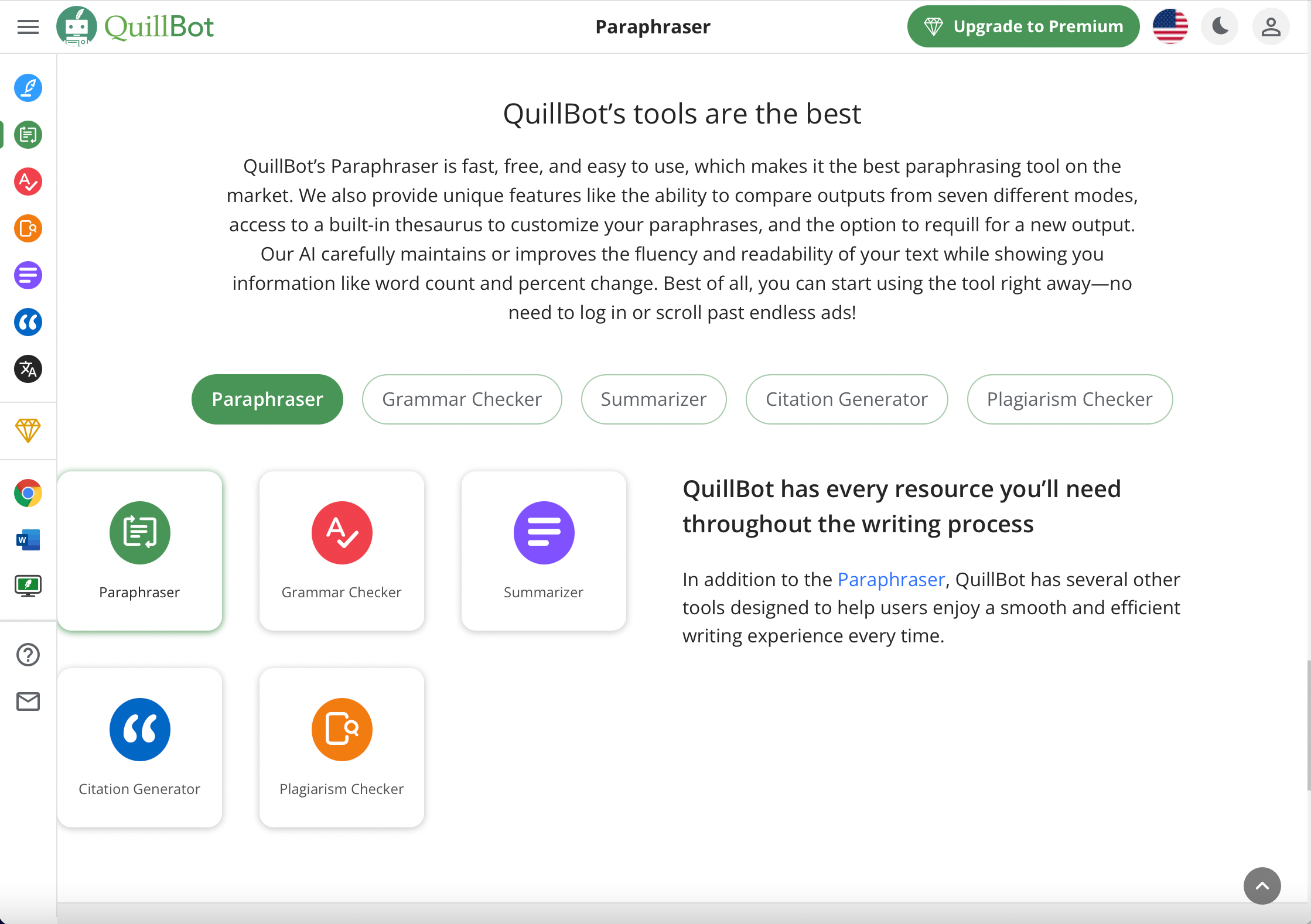 QuillBot AI is an application that utilizes natural language processing (NLP) in order to intelligently assess key information contained inside a given text while simultaneously maintaining the text's intended meaning.
It is designed to assist users in rewriting sentences, paragraphs, or articles while ensuring that the meaning is not altered. In order to accommodate a wide range of writing requirements and preferences, QuillBot provides a number of modes, including Standard, Fluency, Creative, and Formal.
All-in-One AI Writing Tools
Numerous tools and functions, such as academic writing, the production of information, and the enhancement of English language abilities, are common examples of typical applications of the program.
AI-Powered Paraphrasing Tool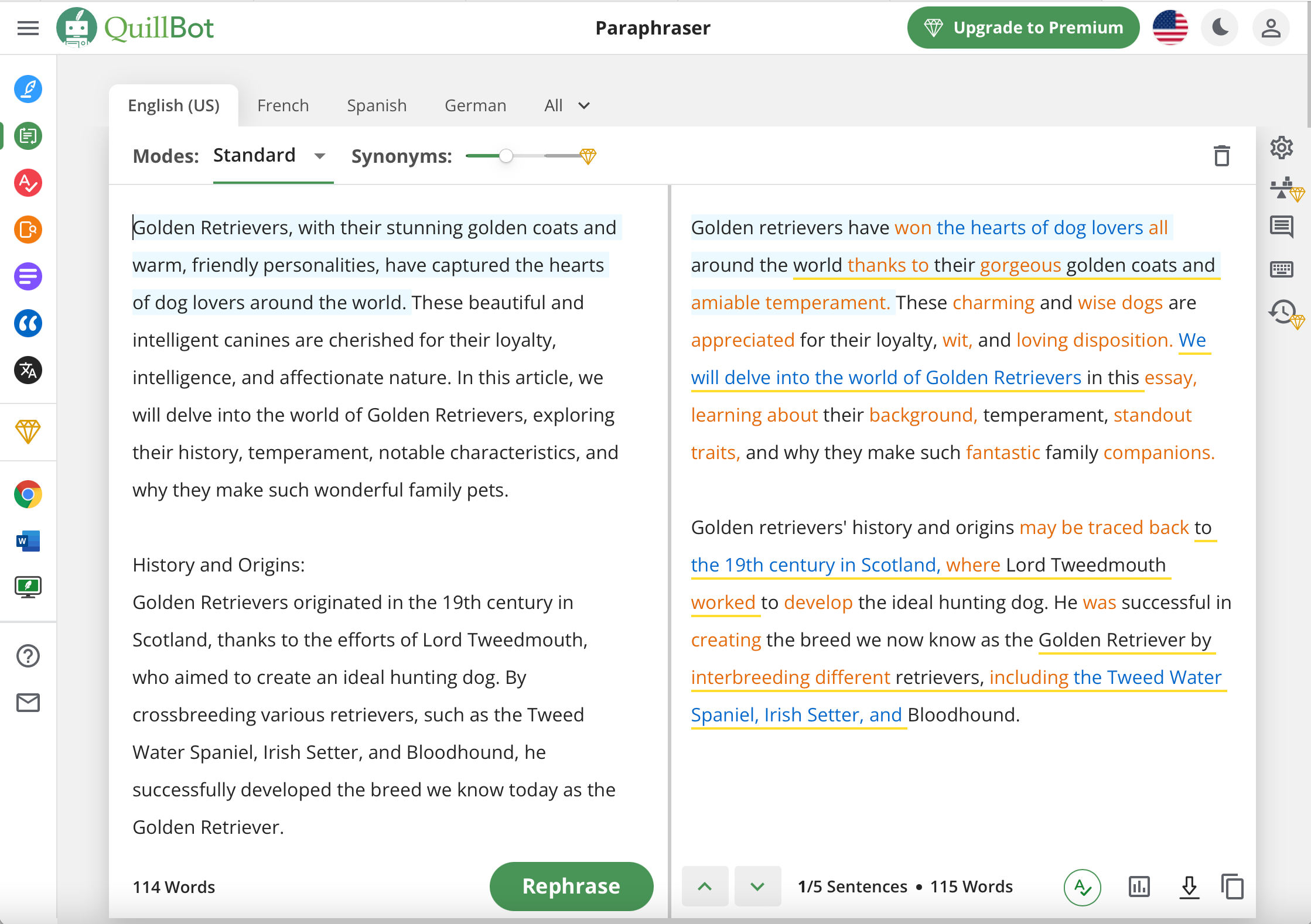 The tool that helps you restate any given text in a variety of different ways is the one that has proven to be the most popular among QuillBot's tools. The technology is designed to improve one's writing by helping them choose the most acceptable words to use in their sentences.
You have access to the QuillBot paraphraser's seven distinct modes, two of which are free and five of which need a paid subscription. These modes include the following:
Standard mode: This free mode strikes a compromise between readability and retaining the text's intended meaning.
Fluency mode: This free option assures that the AI carefully preserves or improves the fluency and readability of the writing, and that it will spot faults in the text.
Simple mode: This premium mode displays the content in a manner that is simple to comprehend.
Creative mode: This premium mode fosters a more distinctive tone and style, which ultimately leads to a wider range of paraphrase options.
Co-Writer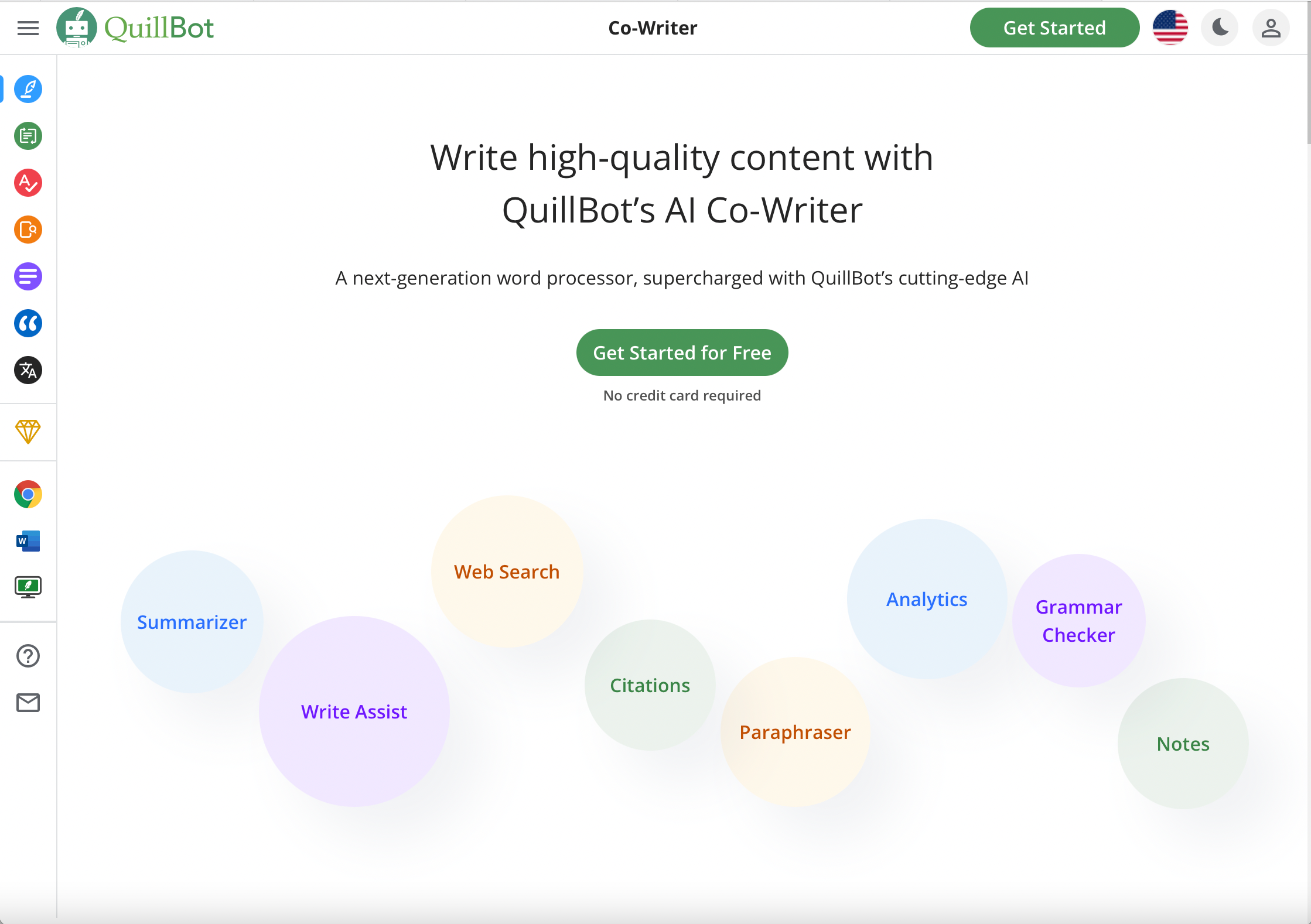 You will be provided with tools to edit sentences, paragraphs, articles, and academic papers as part of the QuillBot AI system, which contributes to its overall goal of making writing as painless as possible. The following is a list of the writing tools that QuillBot AI provides in order to improve your writing:
Synonym Suggestions: While you are writing, QuillBot may offer suggestions for different words to use or synonyms, which can help expand your vocabulary and give some variation to the content.
Sentence Expansion: A simple sentence can be expanded by QuillBot into a version that is more extensive and complete, providing more information or examples.
Word Flip: By flipping the order of the words or phrases in a sentence, users are given the ability to change the structure of a statement, which can be helpful for composing sentences with a variety of various patterns.
Grammar Checker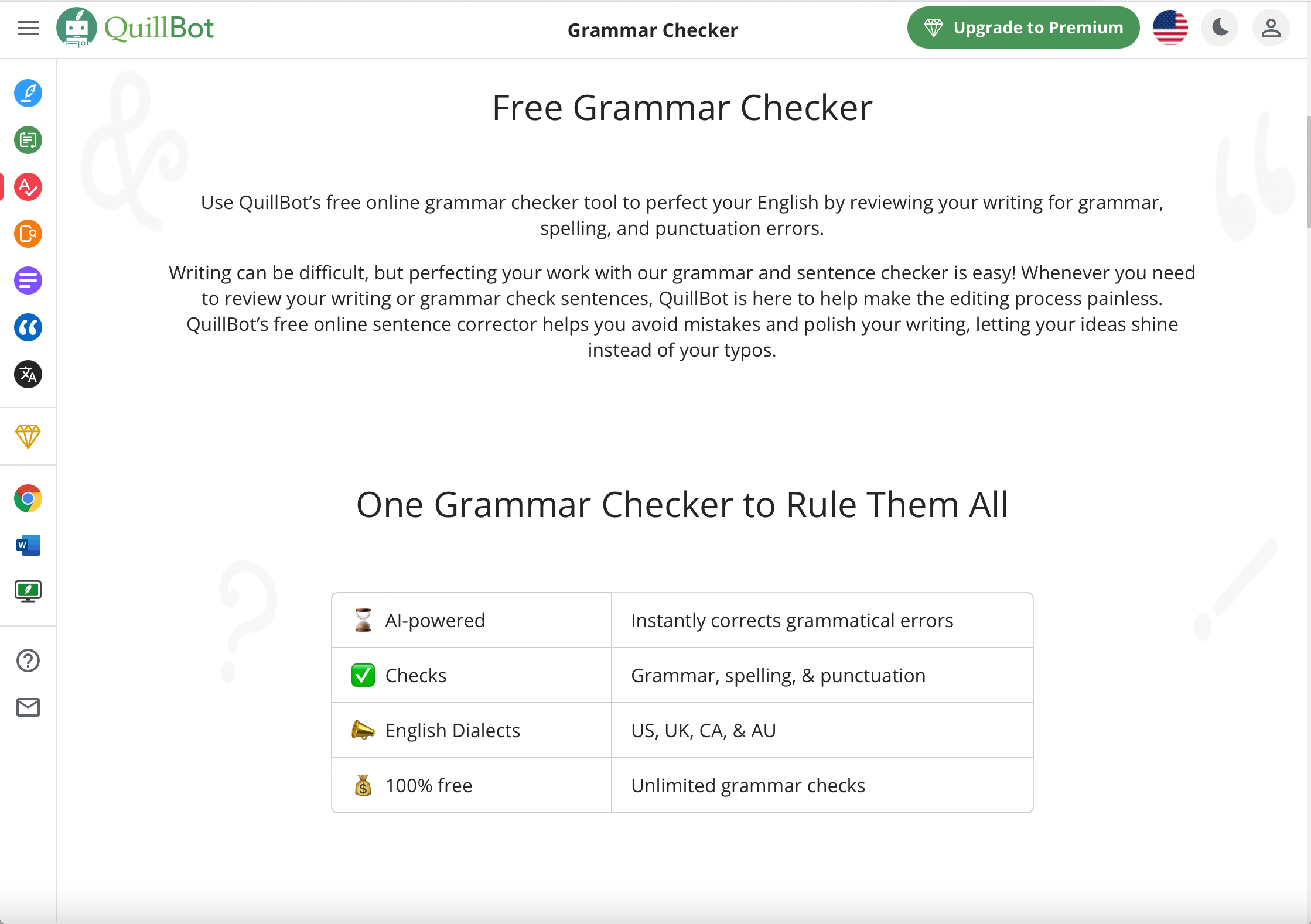 You can enhance the quality of your writing by improving your grammar by pasting your text into the grammar checker on QuillBot and receiving ideas and corrections. The United States English, the United Kingdom English, Canadian English, and Australian English are the four varieties of English that QuillBot is able to edit for correct grammar, spelling, and punctuation.
Plagiarism Checker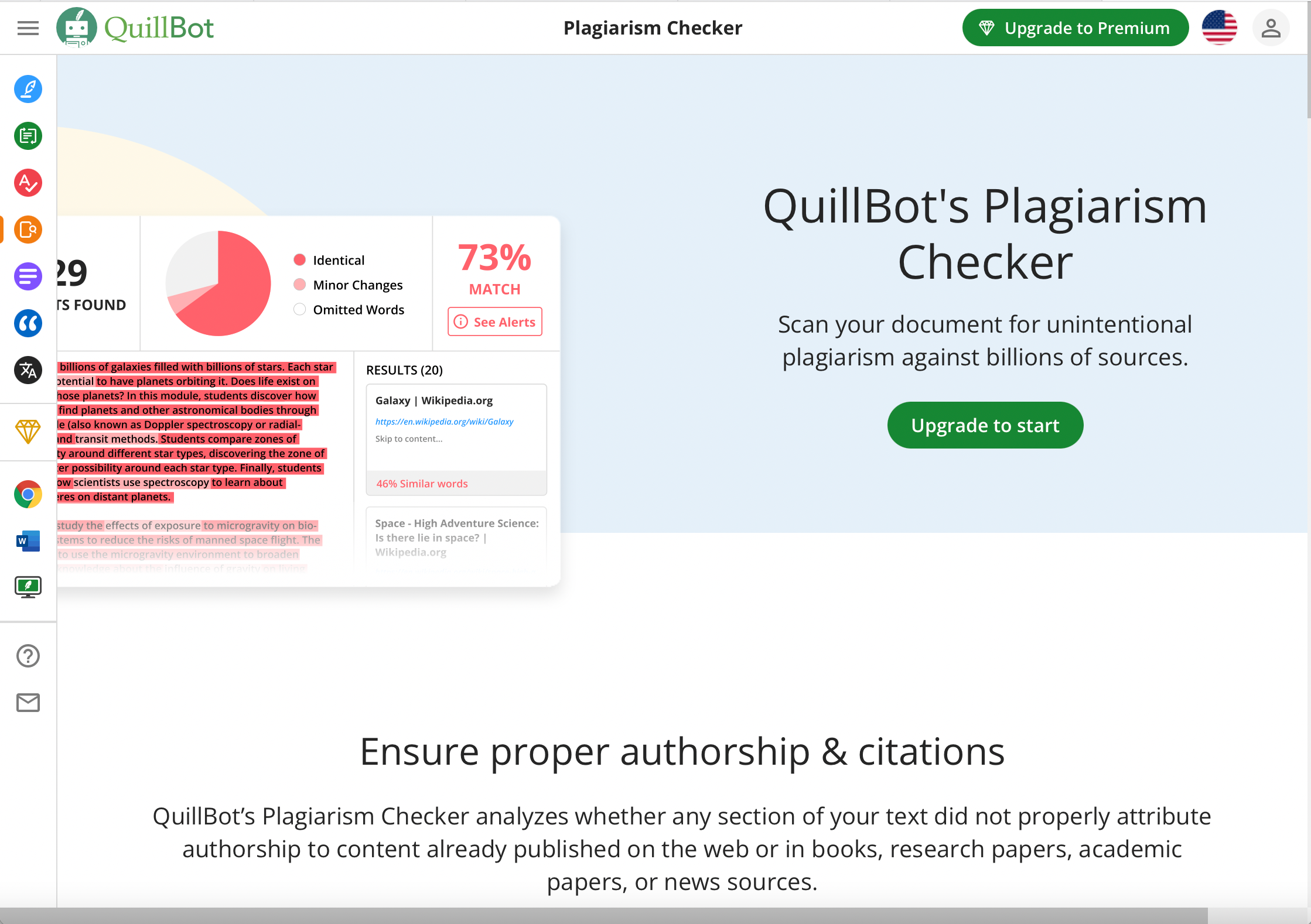 The plagiarism checker offered by QuillBot is a paid tool that examines the content of your writing to identify any instances of improper attribution or instances of plagiarism.
You are able to scan text in over one hundred different languages for the purpose of detecting instances of plagiarism; however, there is a monthly cap on the number of pages that can be scanned for analysis. You are allowed to scan up to 20 pages each month if you have a paid subscription.
Summarizer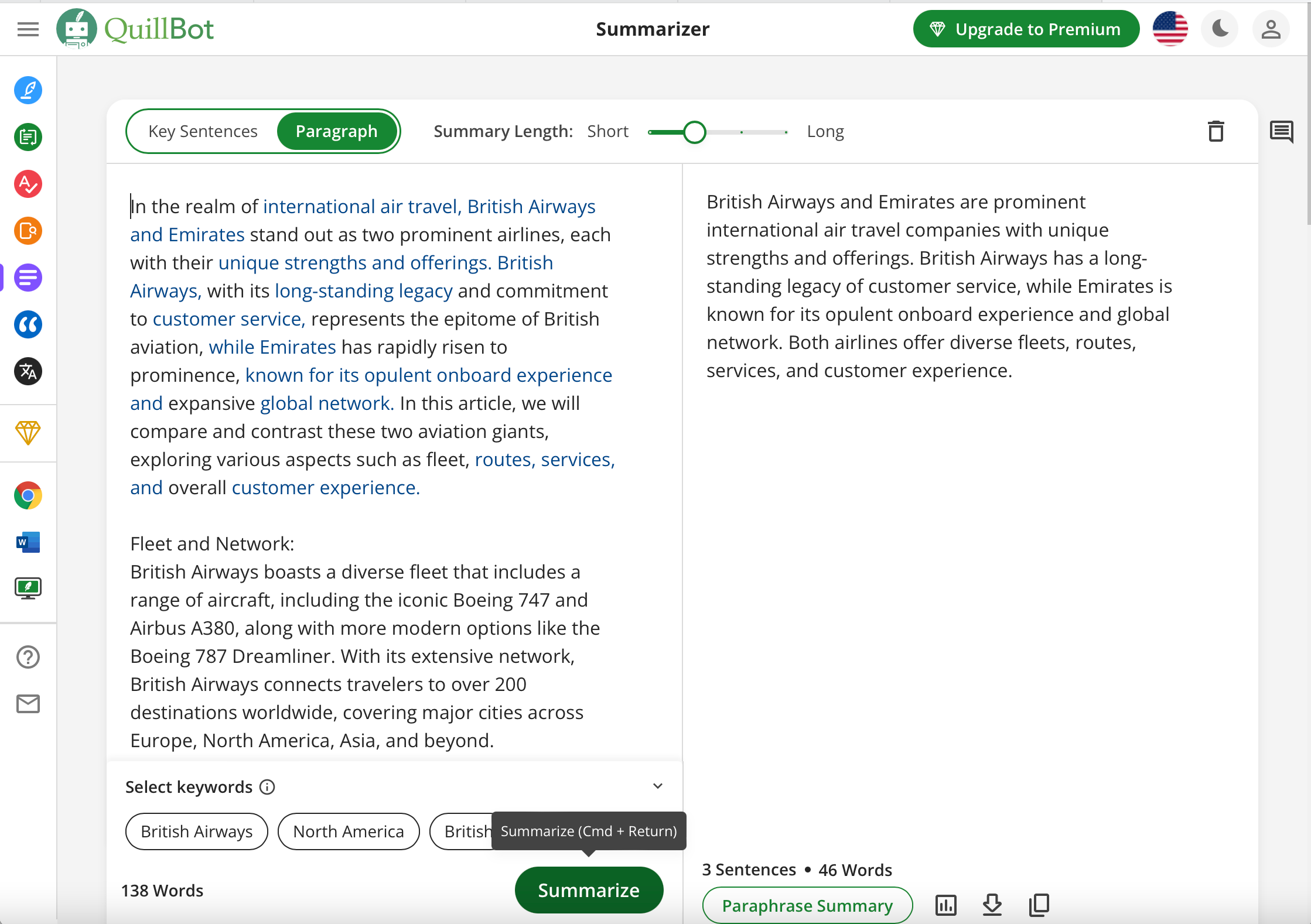 You can reduce lengthy bits of text into shorter summaries with the help of QuillBot's summarizing feature, which is available to you.
The summarizer makes use of sophisticated algorithms to extract the most important points and concepts from a given piece of text, after which it generates a condensed summary while keeping the gist of the original material intact.
This tool is very helpful for activities such as rapidly comprehending the most important ideas presented in an article, summarizing lengthy portions, and determining the most important ideas contained within a book.
Citation Generator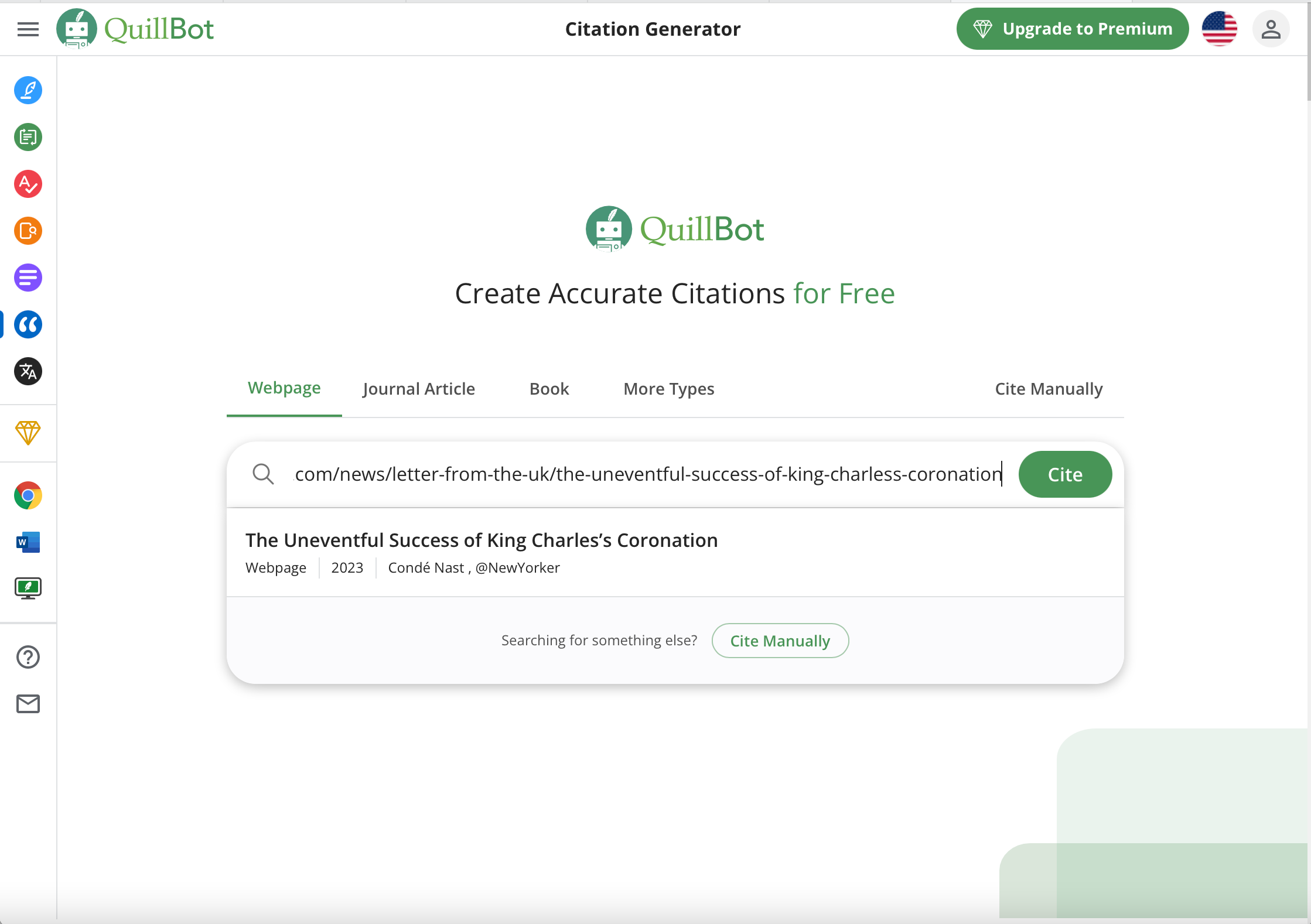 If you are writing an academic or professional paper and are unsure how to properly cite a source, you can use the citation generator on QuillBot, which will provide you with an accurate citation in the format of your choice.
Simply insert the pertinent information on your source, and the citation generator will produce a citation for you automatically. With the help of this tool, you will be able to generate a citation for a website, journal, book, image, or video, among other things.
Translator
In addition, QuillBot provides a translation tool. Now, you can instantaneously translate text into over 30 different languages without having to download any software. This tool is very helpful for people who are studying a new language or who are traveling to a different place for vacation.
Who Should Use QuillBot AI?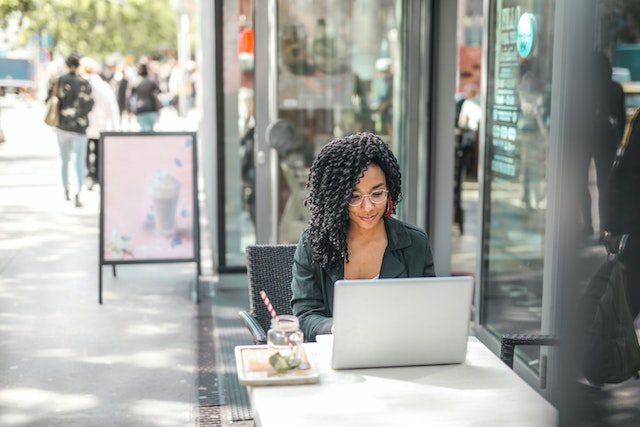 QuillBot is a writing tool that aims to improve the writing process for people in a variety of different contexts, such as students, bloggers, professionals, and language learners.
How Does QuillBot AI Help Students?
Students frequently find themselves juggling a number of different assignments, including essays and research papers. Students can improve their writing with the assistance of QuillBot by:
Improving sentence structure and vocabulary: Rephrasing sentences, correcting grammar errors, and increasing vocabulary are all possible with the assistance of the paraphrase tool.
Citation styles: Students will have an easier time adhering to the required format because QuillBot supports a variety of citation styles, including APA, MLA, and Chicago.
Avoiding plagiarism: The built-in plagiarism checker verifies that the text is unique and helps to prevent unintended instances of plagiarism.
Time-saving: This AI-powered tool speeds up the writing process, which saves students time and makes it easier for students with tight schedules to get their work done.
How Does QuillBot Help Bloggers and Professionals?
QuillBot is helpful for bloggers and professionals all over the world in many different ways, including the following:
Quality content: The AI writer assists in the creation of content that is well-structured, succinct, and instructive, so attracting the attention of readers.
Enhancing creativity: The creative mode inspires the employment of a wide variety of linguistic styles and provides original rephrasings.
Efficient editing: The grammar and fluency modes contribute to the revision of articles, ensuring that they are free of grammatical errors and have a flow that is easy to follow.
Adherence to word count: QuillBot makes it easier to keep track of a certain word count, which in turn enables more efficient editing and administration of content.
How Does QuillBot AI Help Language Learners?
QuillBot also supports language learners in their writing journey by:
Improving grammar and fluency: The AI-driven paraphraser focuses on improving grammar, fluency, and the general quality of language in over 30 different languages, in addition to the four different varieties of English.
Expanding vocabulary: Learners are encouraged to explore new words and phrases thanks to the tool, which also promotes the usage of a varied vocabulary.
Efficient translations: The translation tool on QuillBot assists language students in efficiently translating text whenever it is required.
Building confidence: Language learners can boost their self-assurance in their capacity to communicate effectively in the language of their choosing by working to improve the quality of their written work.
You might be asking how much money all of this will cost you, given all of these functions and applications. The good news is that it might not cost anything at all.
How Much Does QuillBot AI Cost?
You'll feel happy to know that there is a free edition available if you're thinking about getting started with QuillBot AI. The majority of the capabilities that we have discussed will be accessible to you through this version. In addition to that, getting there is not a difficult task at all.
How to Sign Up for QuillBot AI (Free Plan)
Here are the steps you need to follow to get started on the free plan QuillBot AI platform.
Go to the QuillBot AI website.
Click the 'Get Started' button at the top right of the screen.
A pop-up will appear, allowing you to sign up using your Google or Facebook account. Click either option to complete your registration.
If you do not have a Google and Facebook account, there is an option to log in or sign up with an email address at the bottom of the pop-up.
Read More: 10 Best High-Paying AI Careers with Salary to Consider in 2023
Benefits of QuillBot Premium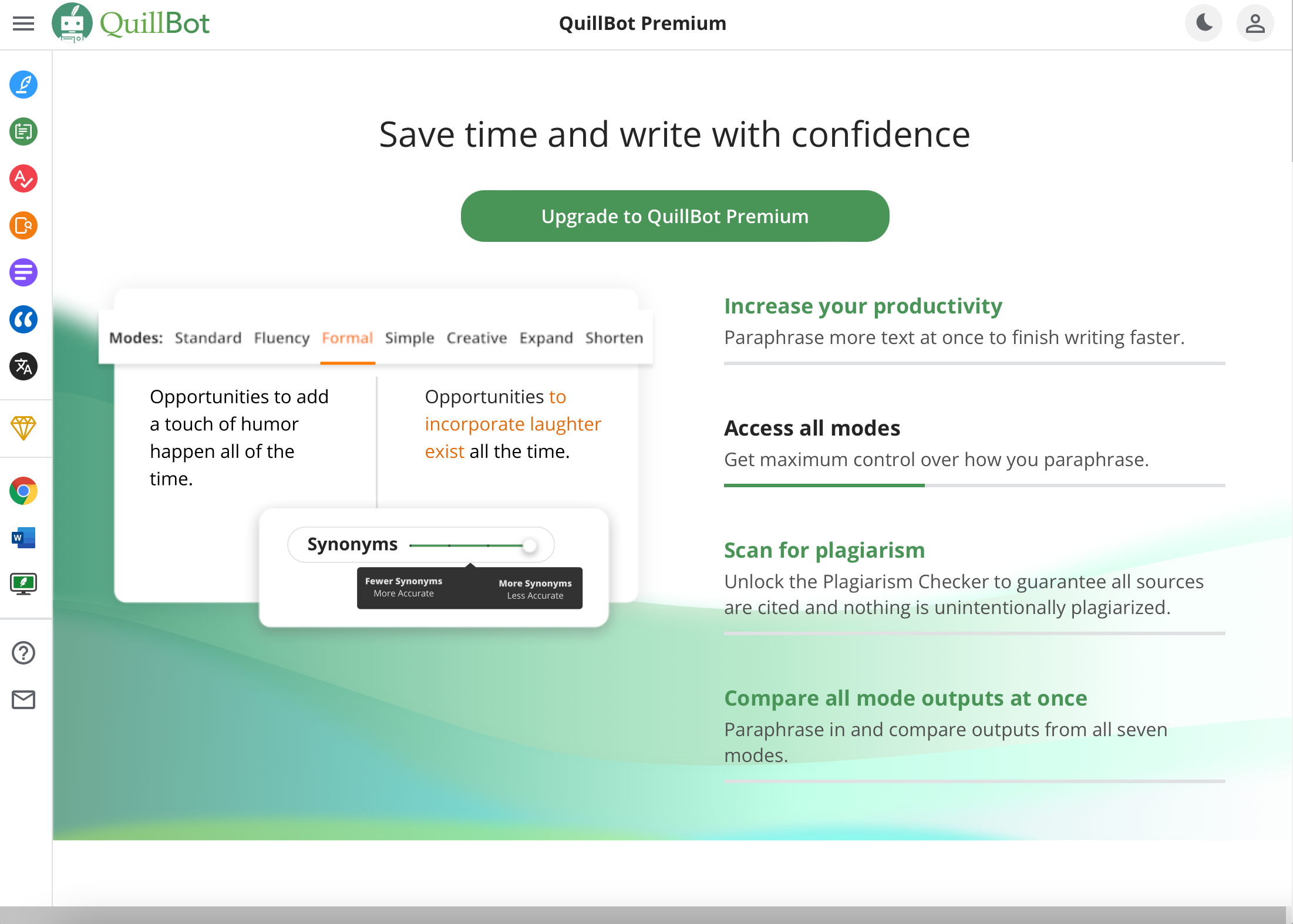 In addition to the free version, QuillBot also provides a premium plan, which comes with a variety of perks, including the following ones:
Access to all seven modes
Faster processing speeds
Access to QuillBot's plagiarism checker
Ability to use different modes simultaneously
Ability to paraphrase more text at once
Advanced grammar rewrites
If you would like to subscribe to this premium service, you can choose one of 3 payment plans.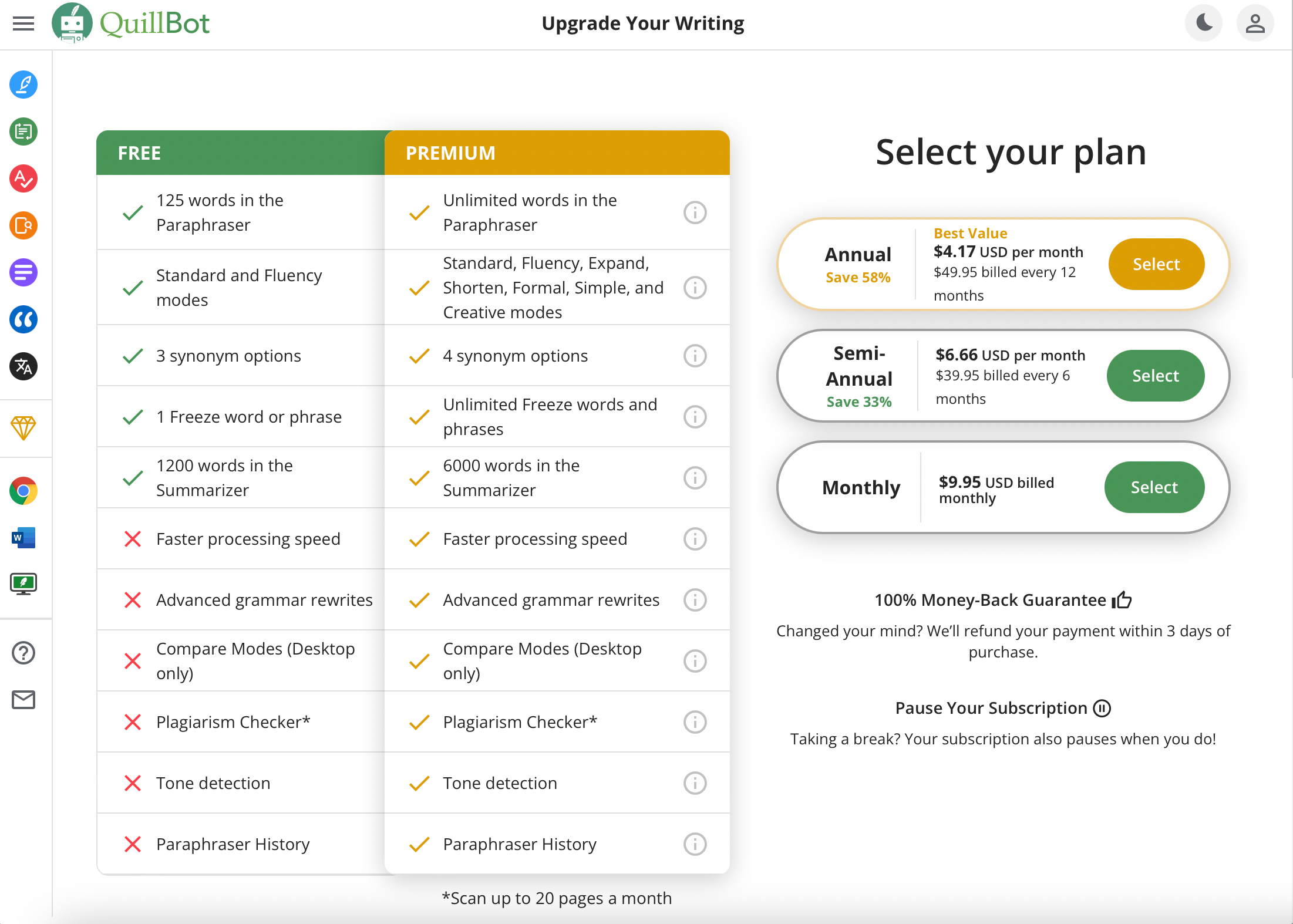 Annual Plan – You will pay $49.95 ($4.17 per month) which will be billed every 12 months.
Semi-Annual Plan – You will pay $39.95 ($6.66 per month) which will be billed every 6 months.
Monthly Plan – You will pay $9.95 which will be billed monthly.
How to Subscribe to QuillBot Premium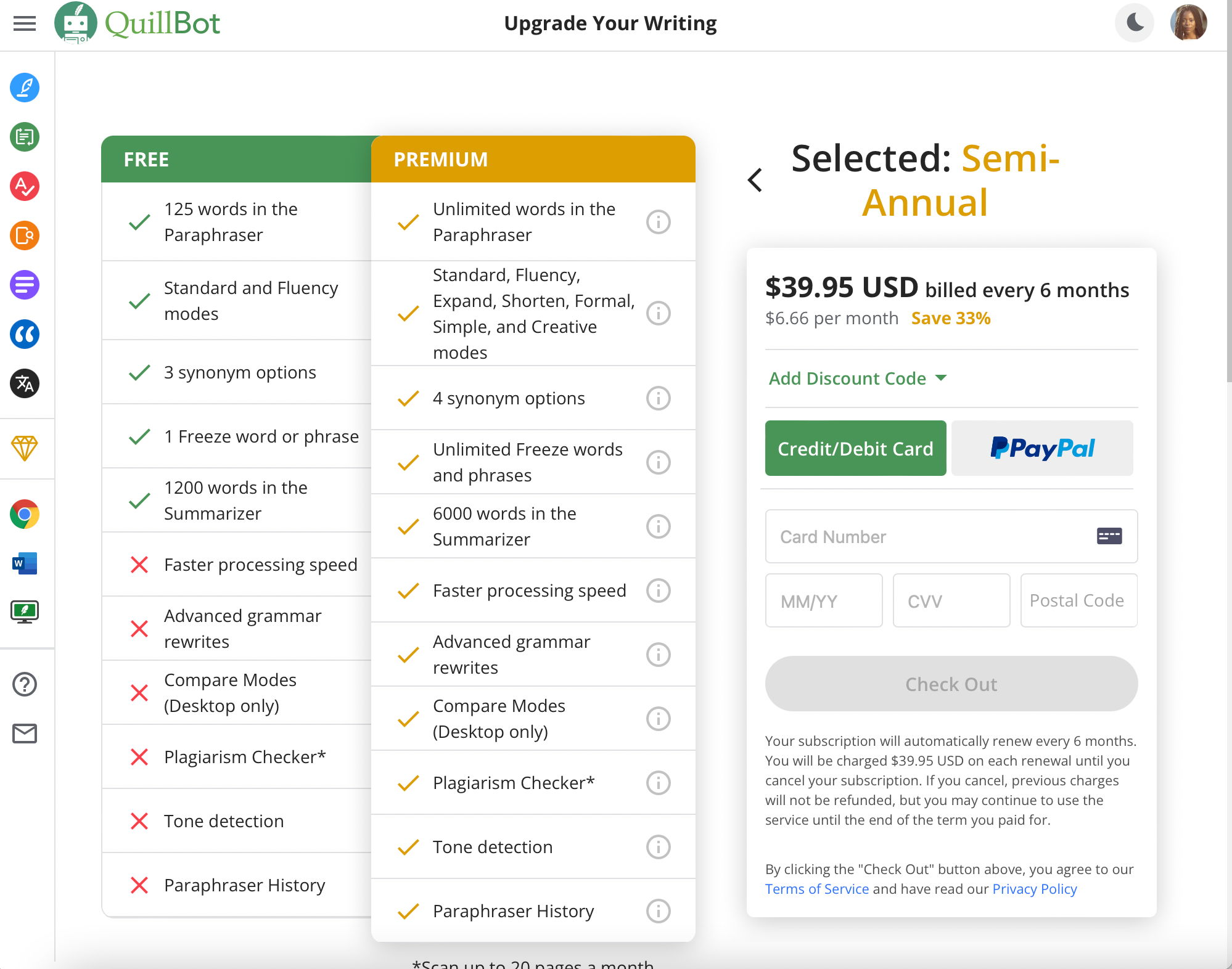 To subscribe to QuillBot Premium:
Log into your QuillBot account with your Google or Facebook account or with your email address.
Click the 'Upgrade to Premium' button at the top right of your screen.
Click the 'Upgrade to Premium' button on the QuillBot Premium page.
Select the plan of your choice.
Fill out your credit or debit card information and click the 'Check Out' button. Alternatively, you can pay via PayPal.
Enjoy QuillBot Premium's service.
Conclusion
The creation of content is about to be completely reimagined thanks to QuillBot AI. Users are able to improve the quality of their writing, come up with new ideas, and increase their overall productivity with the assistance of QuillBot's rephrasing and summarization tools, as well as its plagiarism detection, expanded sentence capabilities, and more.
Users are able to enhance their writing skills and produce high-quality content by using QuillBot's engaging and user-friendly interface, which is made possible thanks to the utilization of sophisticated algorithms and language models.
When utilized in this manner, it is a powerful instrument, particularly when combined with other AI content-generation tools such as ChatGPT.
FAQs
What is QuillBot?
QuillBot is an AI-powered tool designed to paraphrase or rewrite sentences, paragraphs, or articles while retaining the original meaning.
How do I use QuillBot?
You can access QuillBot online, input your text, select the desired mode or setting, and then click "Paraphrase" to receive a rephrased version of your content.
Is QuillBot free?
QuillBot offers both free and premium versions. While the free version has limitations on word count and functionalities, the premium version offers extended features.
How does QuillBot ensure the content retains its meaning?
QuillBot uses advanced machine learning algorithms to understand and reproduce content in a way that maintains the original intent and context.
Can QuillBot help with plagiarism?
While QuillBot can rephrase content, it is essential to use the tool responsibly. Paraphrasing tools should not be used to plagiarize or misrepresent original work. It's always recommended to check rewritten content using plagiarism detection tools.
Are there different modes in QuillBot?
Yes, QuillBot offers several modes like Standard, Fluency, and Creative, each producing different styles of paraphrased content.
Is my data safe with QuillBot?
As of the last update, QuillBot has stated that it does not store user input. However, always refer to the platform's privacy policy for the most accurate and up-to-date information.
Can I use QuillBot offline?
As of my last update, QuillBot is primarily an online tool and requires an internet connection for its operations.
Does QuillBot have browser extensions?
Yes, QuillBot offers extensions for browsers like Google Chrome, allowing users to easily access and use the tool from their browser.
How accurate is QuillBot's paraphrasing?
While QuillBot's AI is advanced, no tool is perfect. Users should always review and possibly revise the output to ensure it matches the intended meaning and context.