5 Metaverse Trends That Will Influence the Next Decade? when the economy is uncertain, it's common to see original business ideas emerge in the metaverse. These ideas frequently spur industry innovation and create new opportunities for both enterprises and people. Here are five trends that will influence the next 10 years as the metaverse develops:
Read More: The Future of Web 3.0?
Here are five new themes that will influence the next ten years as the metaverse develops.
1. Virtual content creation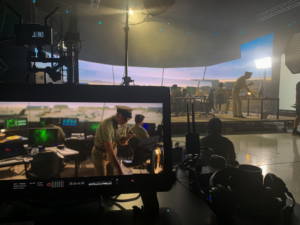 Almost all industries, including gaming, engineering, and architecture, have been using 3D modelling for a very long time.
The demand for virtual items has only grown as consumers move into the 3D world. For instance, the most well-known Roblox metaverse contains over 40 million games where all of the goods, characters, and settings are entirely made by the users. Top creators can earn enormous sums of money. Just consider Samuel Jordan, who earns, according to reports, up to $80,000 every month.
2. Metaversal education
Almost all industries, including gaming, engineering, and architecture, have been using 3D modelling for a very long time. All items, structures, people, and settings were made using computer-based 3D modelling software. The value of this sector is only anticipated to rise, reaching $6.33 billion in 2028. The metaverse space, which is expected to reach $783.3 billion by 2024, is not included in this figure.
Most of the globe has switched to remote working and online education as a result of Covid-19.  The younger generation has taken to the idea of learning digitally to the extent that one of the most well-liked metaverses, Minecraft, has an educational platform for online learning.
However, the global trend toward online education is just getting started. According to Straits Research, the online education market is anticipated to grow to $198.9 billion by 2030. Entrepreneurs should anticipate the launch of new virtual learning environments as well as courses on meta-marketing, avatar design, and virtual law. This will increase the number of job opportunities available to younger generations who use the metaverse.
Did you know that 4 million people flocked to Rio in 1994 to see Rod Stewart perform for free on Copacabana Beach? Until Travis Scott performed in the Fortnight Metaverse in 2020, it was the most viewed live event. More than 12 million gamers tuned in for his virtual concert.
Once other musicians learned about this, they began organising their own virtual performances. Using the metaverse as their platform, musicians like Post Malone, Ariana Grande, and Justin Bieber gave virtual performances. The popularity of virtual events presents a number of options for musicians and other event organisers on platforms.
However, it's critical to begin investigating these possibilities right away given that Live Nation, a major worldwide entertainment corporation, teamed up with Snap earlier this year to use augmented reality (AR) technology to enhance the social and virtual concert experiences.
4. Avatar-based dating
Gen Z had been utilising the Covid-19 lockdown as an opportunity to date in the metaverse while millennials were digitally getting married. Today's games can offer more than just amusement; they can even help you meet possible spouses.
Read More: 8 Tips for Marketers to Boost More Sales from Instagram
A growing number of new businesses, like Nevermet, are developing that specialise in avatar-based dating, which is becoming more and more well-liked. Users of this rapidly expanding avatar-based service can connect with other VR enthusiasts and arrange to meet up anywhere in the metaverse. There will be more and more opportunities for entrepreneurs to enter this market as this trend continues to rise.
5. Metfluencing
The metaverse has emerged as a key venue for promoting and advertising goods and services when it comes to influencers. This is mostly because of its interactive platform, which enables real-time interaction between users.
"Metfluencing" is a term for this tendency, in which an influencer uses their following in the metaverse to sway other users.  According to a number of publications, his estimated net worth is over $20 million. Brands are now paying him to promote their items on his channel because of his popularity.
The metaverse is a dynamic ecology that is growing in acceptance and accessibility. Entrepreneurs should seek for methods to take advantage of the potential in the metaverse as more individuals adopt this virtual reality. There are many options to consider, from creating an online education platform to using metfluencing to promote items. You can use the metaverse to launch your own prosperous business with the appropriate approach.