Do you know Huge technological Advancements Are Being Made? Since the creation of the computer, technology has advanced quickly around the world. Technology has advanced in a variety of fields, including telecommunications, robotics, agriculture, and aviation. Automation, geotargeting, artificial intelligence, and other information technology advancements specifically pave the way for further technological development. People need to stay abreast of the innovations that are being introduced in order to keep up with technological advancement and remain relevant. Here are some of the most recent technological developments that the world has seen thus far.
Read More: Multiple WhatsApp Accounts on Android
●  Cloud Computing
IT professionals may store data and access resources online thanks to cloud computing. Organizations and individuals can now store a lot of data thanks to cloud computing. Since one only pays for cloud space used, this has also helped consumers save money by solving various storage space and data loss problems.
A library of machine learning tools is now widely accessible thanks to cloud computing, which has opened up new avenues for creativity. Traditionally, machine learning technologies have been expensive and out of reach for many enterprises. Corporate espionage and worries about data theft are only two of the drawbacks that cloud computing has to offer.
● Artificial Intelligence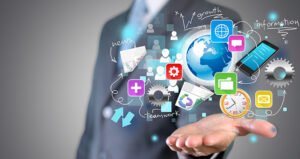 Given the human potential for thought, judgement, and intention, artificial intelligence (AI) refers to "machines that respond to stimulus consistent with traditional responses from people." Critical thinking and judgement are features of artificial intelligence. Advanced analytics services, banking, telecommunication, aviation, and transportation are all currently using AI.
These programmed enable people to foresee issues and swiftly and effectively address them as they arise. Artificial intelligence is becoming more useful. It is utilized, for instance, in manufacturing, healthcare, space exploration, and the creation of energy. Artificial intelligence is being used in homes to activate lights, close doors, play music, draw the curtains, and more with a simple motion or voice command.
In order to increase productivity, humans can use AI to enhance their talents by taking advantage of the computer's tremendous processing capability.
The improvement in human living standards has been greatly aided by the development of artificial intelligence, breakthroughs in robotic technology, cloud computing, and current developments in health technology. However, these developments also raise issues related to how human behaviour will change, how these technologies should be used ethically, and their drawbacks. To keep up with the speed at which technology is altering the world, people need constantly enhance governmental practices.
●  Messenger RNA Vaccines
In December 2020, significant biotech companies created Messenger RNA Coronavirus vaccines. The messenger RNA-based technology for this vaccination has been under development for more than 20 years. When the COVID19 epidemic started, researchers used messenger RNA to build vaccinations. The US government's approval of the vaccines signalled the beginning of the pandemic's demise. This brand-new technology has never been applied to medicine before. It's possible that vaccinations will soon be developed against a number of additional illnesses, including malaria. These mRNA vaccines can be swiftly changed to protect against the coronavirus' altered versions.
Robotics
The use of industrial robots is rising dramatically worldwide. The largest proportion of robots are in Japan, followed by North America and then China. Robotics experts predict that by the end of 2022, there will be more than 3.5 million robots, up from an estimated 1.2 million in 2013. Industrial robots have helped humans in huge businesses like automobile manufacturing and assembly companies do heavy-duty tasks more quickly and accurately.
Intelligent robots have been made possible through artificial intelligence. The Hong Kong-based company Hanson Robotics created Sofia, the first AI Humanoid robot in existence. The start of Sofia happened on February 14, 2016. A social robot named Sofia the Humanoid can understand and carry on simple human conversations.
Drones, or flying robots, can be remotely controlled by using flight plans that are software-controlled in their embedded systems. A global positioning system and onboard sensors are used by these systems (GPS). At first, people thought that drones belonged only to the military. But their creation has made photography and videography better. In addition, several security firms employ drones with cameras for monitoring in order to aid law enforcement and improve security. These drones have also simplified local distribution. By aiding pest control and irrigation, drones can help improve agricultural management.