Hey, Everyone, it's time to take a look at Google's best smartphone for the upcoming 2021 that they released this year. Google Pixel 5 has some areas that you can call a flagship in others you can't. It has a $700 price tag so not quite reaching those $1000 price tags of other flagships. Google send me this phone a few days ago so I've been using it for a little while. Now, so let's see what value Google Pixel 5 has offered us.
Starting with the design of the Google pixel 5; Google went a little bit different with an aluminum body which generally has meant you can't have wireless charging. However, Google has added wireless charging to Pixel 5. But, not only that they did take it a step further, and they have something they call battery sharing technology. You can now reverse wireless charge something and you can even have it stop sharing the battery. When a phone reaches a specific percentage.
Read more: Best Top 12 Weight Loss Apps of 2021
So, when it is on, all you have to do a set something that can wirelessly charge on the back of it. Such a phone maybe some of your wireless earbuds. And you can actually charge them. One quick note about the buttons on the side is that they're very clicky. Especially the volume rockers sound which is just noticeable when the room is silent.
One main thing to note is in comparison with other devices, you do have limited options in terms of colors. You only have two colors, my one is Sorta Sage or just black. And storage options you don't even have a choice. You get 128 Gigs of internal storage which don't get me wrong it's still a good amount of space.
A little bit different Google what with a rear fingerprint scanner as opposed to the standard in display ones. However, this one is very quick very accurate and it's comfortable to position your finger. One thing I really like about having the rear fingerprint is, I don't even have to touch the display to bring down those notification icons and you can swipe the backups. You have to swipe down on that fingerprint scanner and it will bring it on down. Just a nice quick shortcut Google's added to their fingerprint scanner.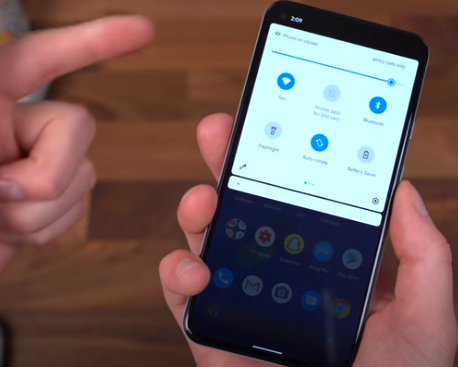 Down at the bottom, it has stereo speakers. But at the top, there are no speakers and also no earpiece. What so ever, which gives it a very uniform look. considering there's no cut out towards the top that means for an earpiece what Google has done is actually vibrates the glass up at the top to emit sound and I found calls to be great absolutely no problems with calls. All calls are great in sound quality. General's fairly average out of the stereo speakers, Google Pixel 5 doesn't get as loud as I would like and at quality again it's lacking bass just not as good as other flagship phone's stereo speakers.
Read more: 10 Highest-Paying IT Jobs in 2021
The Google Pixel 5 has a 6-inch size display panel which is protected by gorilla glass 6 and it is a 1080P. resolution – 90 Hz OLED  screen. The 90 Hz definitely makes a difference when you're scrolling and using the phone. It is definitely smoother and more noticeable when you compare it to a 60 Hz device. Now, I really like this display overall it's a solid 1080 P. OLED display having a higher refresh rate. It is a nice addition, I'm glad Google included it. However, I actually wish it would be a little larger screen. It's a 6-inch display, I kind of wish they may be provided a 6.26 or 6.3-inch display but again that's a personal opinion. I know having a 6-inch display makes it a little bit more of a compact device.
But, it is still great while watching videos and playing games. One thing I want to make a note of is consistently throughout using this phone I have noticed I needed to kind of higher up the brightness Percentages consistently. Sometimes it just seems like the adaptive brightness is too low which can change with a software update. So hopefully, Google pushes some updates to make its active brightness a little more aggressive and brighter. The Google Best Smartphone for the upcoming 2021 Pixel 5 does have 5 G. connectivity which some of you might not be able to take advantage of. But like other devices, Google Pixel 5 is also future-proofed.
The software experience on the  Google Pixel 5 has been excellent. Google has done a good job of streamlining their software. Providing a lot of really advanced features and some specific Google Pixel 5 features. One feature I wished they might still include, it was a squeeze to trigger function the Google Assistant. Now, you start it with the old-fashioned way with your voice or pressing a button, and of course, with the Google Assistant, you will get all of the assistant feature updates first in comparison with other android phones.
Read more: 10 Popular Social Media Apps in 2021
I think one of the biggest cuts Google did make to bring that price down was probably with the processor. The Google Pixel 5 has the snapdragon 765 G. processor. Kindly, don't get me wrong, snapdragon 765 G is still a decent processor. It's just not as good as that top tier snapdragon 855 or 865 that you'll see a lot of other flagships.
So let's get ahead and hop into the gaming section. When it comes to the 765 G. gaming performance, Don't worry, you can still play all of the latest games, and the higher graphics games. You'll just notice a little bit of a difference in slowing down performance if you are playing a lot of the higher end games. Heavy multitasking can rise a few performance issues for Google Pixel 5.
Now, One question that might become to your head is that from where you can buy a Google Pixel 5 Phone. If you are living in the USA or CANADA, you can easily buy it from Virgin Mobile Store, Amazon, or any other online mobile shop. But, I definitely recommended you to purchase it from the Virgin Mobile store, because you will get their carrier offer and a better discount on Google Pixel 5. Moreover, Virgin Mobile Phone USA and CANADA also offers you other phones special deals.
Price of Google Pixel Phone:
Onetime: $940 Buy your phone upfront Plans from $28/MO. Shop online and save $145.
Zero Down Payment: PAY WITH SWEET PAY™ – Price with installments over 24 months. $0 down payment $20/MO. for 24 months. 0% APR. SAVE $460 with Sweet Pay™ over 24 months vs. our full device price. Requires an eligible 2-year plan. Taxes extra.
Speaking of that camera one more area where it's a little obvious that a better processor would have done a little bit better job. When you take pictures and look at the gallery icon, you'll notice processing down slowly the bottom left. Especially in lower lighting condition shots. But, in good lighting conditions, Google Pixel 5 performs well.
Google Pixel 5 comes with a dual-camera setup as opposed to a triple camera setup that you see in a lot of flagship smartphones. It has a wide-angle lens and an ultra-wide-angle lens which is weird because Google once said that they were going to stick with the telephoto but nope they got rid of it went with the ultra-wide. The shots were taken on pixel 5 with the wide-angle lens, they're very similar to the previous Pixel 4 Phones. That is not necessarily a crazy upgrade. But that doesn't indicate they're a poor camera.
Some of the best images you can get on a smartphone are still taken by Google Pixel 5. And that's no different with the Pixel 4, it is still one of the best point and shoot cameras on a phone with that wide-angle lens and the new wide-angle lens does a great job as well. I really think that their software processing is the best out of any other phone on the market right now. And that is what has carried them to be one of the top tier cameras.
Google Pixel 5 might be the best camera of the year and I really believe that if they included some better hardware in their camera department; maybe a little bit larger sensor. They would be the clear cut winner of the best camera of this year because they have such great image processing software. Now, I really hope to see some updated hardware to their camera and hopefully some new features in the camera software next year.
Moving on to battery life which was the main reason that I couldn't recommend the previous pixel phones. Now, I have nothing but good things to say Google has actually taken seriously battery life and added a much bigger battery. It has a 4080 MAh Li-Po battery. For one-handed moderate uses, Pixel 5 can last the whole day easily. It definitely has a flagship quality battery life.
Final thoughts:
The Google Pixel 5, I really do like this phone personally. I wish the display was a little bit larger but as a point and shoot camera one of the best out there. Price up of this device, I think Google justifies that price cause their software support. You will get guaranteed 3 years of customer support. You get updates right away and all of those pixel software features that we mentioned earlier. I really like Google Pixel 5 phone, I can definitely recommend it, again recommending it at the $700 price point. Drop a comment, let me know. You're concerned about the Google Pixel 5 android smartphone for upcoming 2021.