Even though we all want to stay in shape, frequenting the gym frequently feels like a chore. It can be a challenge to give it a lot of time. Gyms have become one of the places to stay away from at all costs as a pandemic looms. Closing gyms does not, however, mean that you are closing the door on your own fitness. Even when exercising at home, one can maintain good health.
These days, fitness apps offer workout sessions and mindful exercises to keep you physically active while also helping you keep track of your calorie intake. You might find the motivation to get off the couch for a while by having a fitness app on your phone.
Let's get you one if you haven't already downloaded one. The top 10 fitness apps are listed below for your consideration.
1. Google Fit
Google Fit is a free fitness app with good features that is just as practical as Google's other apps. The app's interface is user-friendly and has an intuitive design for a seamless experience. The app will improvise suggestions for you after you set up your profile. For instance, it will start keeping track of your heart points and move minutes. Additionally, you can monitor your daily step total and compare it to the suggested amount for your age, gender, etc.
You can always see a summary of your daily, weekly, or monthly activity and schedule your exercises and strolls/jogs accordingly. The ability of Google Fit to work with other health and fitness apps is one of its intriguing features.
2. MyFitnessPal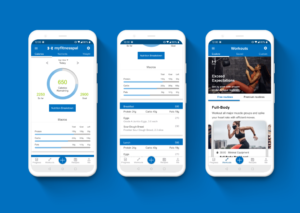 Every time you decide to pursue a health goal, My Fitness Pal—one of the most popular fitness apps—always comes through. The app provides a selection of workouts, including several cardio workouts. Each workout is customised to meet your specific fitness objectives. Additionally, it makes it simpler for you to track your workout sessions across all the devices you use by allowing the integration of more than 50 apps and devices.
The vast food database of My Fitness Pal, which almost never overlooks any food in terms of calorie count, is just one of the many reasons why we prefer it. The calorie-counting feature of the app is its main selling point. Additionally, you can enter your desired weight when setting a weight goal, and the app will calculate your nutrition needs accordingly.
3. CARROT Fit
CARROT Fit, which is exclusive to the Apple Store, takes a humorous yet practical approach to fitness. This app offers incentives for those who procrastinate frequently and need a strong push to exercise. The goal of the app's mini-rewards, which include watching a friend eat a bag of chips (though I'm not sure I'd want to), is to boost your happy hormone and encourage you to use the app for another workout.
Several advanced features can also be unlocked after successfully finishing your sessions. Additionally, the app continuously tracks your development and modifies its tone in response to it.
4. Sworkit
The workout/exercise app Sworkit is brimming with useful features. From stretching to challenging workouts, the app has something for everyone. You can set your own parameters and goals because all of the sessions and routines are highly customizable. Despite being fully paid, the fitness app has a respectable number of features. It runs without a hitch and also logs all of your sessions.
Sworkit works well with numerous other well-known fitness apps, including MyFitnessPal and Google Fit, among others. However, this app does not track or fit it with your progress.
5. Map My Run
Map My Run, one of the top-rated fitness apps available on the App Store and Google Play Store, is not your typical running app. Instead, the app enables you to log a variety of fitness-related activities like workouts, running, cycling, and other types of exercise. Your phone's GPS is used by the app to track your mileage. Additionally, the app announces your speed as you run, allowing you to keep up with or slow down as necessary. Despite being free, a sizable portion of the features are only included in the paid package.
The Apple music app's integration with this app is one of its most intriguing features. While you reach your running goal, you can listen to music through the running app.
6. Runtastic
Adidas offers a fitness app called Runtastic. The running app from the sports company launched with adequate features. The app, which was primarily created for runners, can monitor both indoor and outdoor running activities. The app does not recognise treadmill runs because it relies on GPS rather than the phone's built-in accelerometer. With the help of the social media integration in the app, you can share your stats with your loved ones. The app also connects users in a social network so they can see what other people are doing in terms of running.
The app has a tonne of additional features that offer numerous workout options. Even better, you can enter a specific objective into the app. Additionally, Runtastic can be used in conjunction with other useful apps like Pedometer and Altimeter.
7. Fooducate
Fooducate is a nutrition-based fitness app that tracks your calorie and other nutrient intake and is primarily focused on nutrition. Monitoring your eating habits is one of the requirements for maintaining your fitness. This app is especially made for those who are concerned about what they eat and are constantly looking for healthy substitutes. The app requests your biometric data up front so it can proceed with the calorie counter and other features as needed. For instance, following the calorie intake that is essential for your health will make it simple for you to achieve your weight loss goals.
The food library offers information on the nutrients found in some of the most popular foods. Additionally, you can record each meal so the app can figure out how many calories and other nutrients you consume each day. By adopting healthy eating practises through Fooducate, you can maintain your fitness in addition to running and working out.
8. Headspace
A healthy body is guaranteed by a healthy mind. Therefore, Headspace could be ideal for your Headspace while you already have an app for tracking your calories and another for your workout sessions (pun intended). After a free 10-day trial, users are required to pay to continue using the mindfulness app. The trial version's sessions are each 10 minutes long and include a video infographic that explains what will happen next. You can only access the following session once you have finished the first one. Each session is thoughtfully created to enhance the one before it.
To encourage users, the app also sends amusing pop-up messages. On the app, users can also set reminders for their sessions. The app has a FAQ page where users can interact with one another, share their app experiences, and offer support to one another.
9. My Virtual Mission
My Virtual Mission, one of the most well-liked apps of the year, makes exercising enjoyable. You can create fitness missions on the app that you must complete. Others can be pushed to complete your virtual mission by you. Through the app, users from all over the world are connected and can communicate with one another about exercises and workouts.
You can complete a variety of virtual missions on the app. After selecting a mission from a list of options, you can keep track of your progress. Users of the app can also specify a time limit for each activity. This is perfect for those who work out but then get slack. The group mission feature is what distinguishes this app from many others. Every member of the group contributes to the group missions, which encourage people to maintain a healthy lifestyle.
10. Fitbit Coach
With its many features, the Fitbit coach, which was created for wearables, upgrades your fitness wearable. The app costs money and is accessible on both iOS and Android. The wearable and smartphone are connected by the app. It makes a variety of pertinent workout recommendations by keeping track of your daily activities. On your smartphone, you can browse the app and set goals. Depending on your needs, choose from a wide range of routines. The difficulty of a workout gradually gets harder after you finish it. You can achieve your fitness goals with the help of this coaching subscription service.
The app, which was formerly known as Fitstar Personal Trainer, underwent a rebranding and update to better serve a much larger audience.