Apple will recognize suspicious behavior and lock your Apple ID if someone tries to access your Apple account by repeatedly entering the wrong answers to your security questions or password. The best option is to lock your Apple ID because doing so prevents the hacker from accessing it and, with it, your iCloud email, iMessage, and FaceTime. Locking your Apple ID also prevents thieves from using it to buy things from the iTunes Store or App Store.
The fact is, you might accidentally lock yourself out because you forgot your password or entered it incorrectly and tried more than once. This is why it's not always the hacker trying to access your Apple ID. You can't just forget about it and make a new Apple ID because that account contains all of the data that is stored on your iPhone. You'll need to know how to unlock Apple ID and other locks on your iPhone or iPad if that occurs.
#1 How to Unlock Apple ID With iToolab UnlockGo iPhone Unlocker
Regardless of your circumstance, UnlockGo can help you unlock your iPhone. Using powerful features, you can quickly unlock iPhone locks without following any difficult steps. Regardless of the type of passcode you have set to unlock your Apple device or the iPhone unit you have, UnlockGo enables you to learn how to remove Apple ID from iPhone.
Key Features
The Apple ID can be unlocked by UnlockGo in a variety of situations, even if your phone is damaged.
unlock all screen passcodes, including Touch ID, Face ID, and 4-digit/6-digit passcodes.
Without a password, delete the Apple ID from the iPhone.
Activation lock bypassed without a password for iCloud.
Eliminate the MDM profile to get around the MDM lock.
Without a password, disable Find My [device].
In a few minutes, reset the screen time passcode.
The screen time passcode should be disabled.
Remove FMI without a password.
It works with the most recent iPhone 14 series, macOS 10.11 through macOS 13, and Windows 11/10/8.1/8/7.
After learning about all of iToolab UnlockGo's key features, the next step is to learn how to unlock an Apple ID by following the straightforward instructions below. However, you must first download, install, and run iToolab UnlockGo on your computer before you can proceed.
#1 Once your iPhone is connected to your computer, UnlockGo should recognise it automatically. Choose Unlock Apple ID from the main interface to continue. To pair them, click Trust, which will open on your iPhone.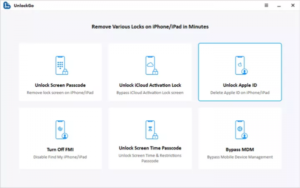 #2 To remove the Apple ID and iCloud account currently linked to your iOS device, select Unlock Now. It should be noted that iOS 11.4 or later devices with a passcode lock and Two-Factor Authentication turned on are currently supported by UnlockGo's Unlock Apple ID feature.
#3 The lock screen and two-factor authentication must then be verified as being activated on your device. Two-Factor Authentication must be manually enabled by navigating to Settings > Apple ID > Password & Security. If this option is enabled, click Yes to continue.
#4 Next, you'll need to download the firmware. UnlockGo will automatically detect the model of your device. Choose the correct firmware version and click Download. It will only take a few minutes to complete.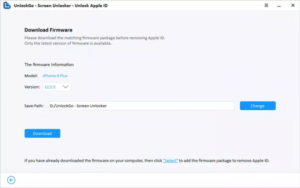 #5 Click Unlock Now to unlock the Apple ID when the firmware has been downloaded; this process will take a few minutes.
Keep your device connected to your computer at all times and wait for the Apple ID to unlock.
#6 Your Apple ID will be successfully deleted at this point. After restarting your device, you may configure it. Select Unlock with Password on the screen. Enter the screen passcode after selecting Use Device Passcode. After that, you'll be able to start using your phone and create a new Apple ID.
#2 Using your phone number to unlock your Apple ID
You may reactivate your Apple ID account in the most straightforward manner regardless of why Apple locked it. The trusted phone number associated with your Apple ID must be entered.
First, visit iforgot.apple.com.
Enter your Apple ID, which is often the email address associated with your Apple account, in the second box. You will be prompted to confirm the phone number connected to your account following several failed attempts.
#3 Reset Password notifications will then start appearing on your devices. When it says "Use this phone to reset password," on an iPhone, tap Allow.
#4 Once you've completed this, a notification will appear advising you to continue on one of your other Apple devices. Tap Done if you still have one available. If two-factor authentication is enabled, you will get a text message or a code on a reliable device during the process. Then, you can unlock it and reset your Apple ID password using this.
#3 Using your iPhone or another reliable Apple device to unlock an Apple ID
How would you delete your Apple ID from your iPhone if you didn't have a phone number? The quickest and easiest way to reset your password is using your iPhone or another reliable Apple device that is already logged in with your Apple ID.
Go to the Settings menu in step one.
#2 Select Password & Security, then Change Password after tapping your name.
#3 Follow the directions provided on-screen to reset your password.
You may also do this method on a dependable iPad, iPod touch, or Apple Watch. To change your password on your dependable Mac, just select Apple menu > System Settings (or System Preferences) > Sign in with your Apple ID (or Apple ID). Next, click Change Password under Password & Security and adhere to the on-screen prompts.
Then, you won't require a phone number or the use of a third-party programme to unlock your Apple ID. Steps #2 and #3 are not guaranteed to fix the issue, unlike iToolab UnlockGo. The only way to guarantee that it will be resolved entirely without hassle or additional demands from you is to use iToolab UnlockGo, even though we're all looking for a way to successfully bypass Apple ID lockout.
To unlock your Apple ID and get over other obstacles, download iToolab UnlockGo for free and pick the best price option.