Do you know Motorola Just Introduces Stunning 200MP Photo?  Motorola will release a new phone in July. With so many camera and display options available on mobile devices, entering the market with a new phone might be intimidating. But Motorola has developed a method and cutting-edge technology to include a huge 200 MP camera for a new era of mobile photography. The information on their future Motorola phone is still lacking.
Read More: Hackers Can Access Your Home Security Cameras: Here's What You Can Do to Prevent Them
Motorola Introduces Stunning 200MP photo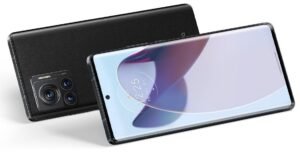 What is certain is that the new phone is making an entry with a huge lens and a potent message to change mobile photography, according to the post of Lenovo's general manager. The Weibo post also recommends using the Samsung ISOCELL HP1 battery. Let's learn more about the new Motorola phone.
Purported features of Motorola's upcoming phone
A third-generation foldable Razr will be introduced alongside Motorola's newest flagship phone. The major catch is that Motorola is developing its 200-megapixel smartphone under the codename "Frontier." A 200-megapixel Samsung sensor is expected to be used for the primary camera, which will be joined by a 50 MP UltraWide, a 12 MP telephoto, and a 60 MP selfie camera.
There are also a few alleged aspects of Motorola's upcoming heavy sensing camera with enormous resolution that have been emphasised. The Motorola forthcoming phone will most noticeably have a 6.67-inch OLED screen with an astounding refresh rate of 144Hz. It would include a 4,500mAh battery and have support for 50W or 125W wired fast charging.
Third-generation Razr
In addition to the 200MP phone, Motorola's Shen Jin stated last year that the company was working on a third-generation Razr. With improved features, this smartphone would have more impressive and cutting-edge functions. The third-generation Razr has internal improvements that are the most pronouncedly notable.
The gadget would be powered by Qualcomm's latest Snapdragon 8 Plus Gen 1 CPU. Amazingly, the 200MP phone will also make use of the same technology, resulting in improved pictures and promising photography. The new Snapdragon 8 Plus Gen 1 CPU from Qualcomm is an excellent choice for Motorola's forthcoming smartphones. Because the earlier gadgets lacked it, their performance was slower and more erratic.
Which unique challenges Motorola's 200MP camera can face?
Mobile fans may be excited and intrigued by a 200MP camera, but it has drawbacks and obstacles. It's astonishing to learn that Motorola's $1,000 Edge+ had trouble taking pictures in low light and was capturing blurry shots.
Although a Motorola Phone with a 200MP camera might appear amazing, its ability to operate such a high-resolution camera rests entirely on the processing power and effectiveness of Motorola's hardware and software.
Concluding remarks
Despite these reservations, Motorola's efforts to deliver something fresh and sincere to support the technology revolution are what stand out in this situation. Motorola's success over the previous three years was only average at best. However, considering its efforts to create a phone with a 200MP camera and outstanding features, this may alter now.
Given that it feels like it is ushering in a new era of photography and innovation, the flagship is genuinely astonishing. Whether or not they will launch it outside of China is unclear to us. By looking at the introduction dates of more recent Edge Plus, we may make an educated approximation.