With its newest smartphone release, the iPhone 14 series, Apple is focusing on the Emergency SOS feature, which allows users to send texts even when there is no cellular signal thanks to a satellite connection feature. Users in the United States and Canada can now try the demo and see how it works thanks to the Cupertino giant.
In order for them to test the feature, the company is also concentrating on bringing the service to new nations.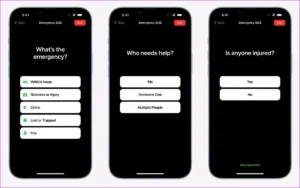 How to Test Demo of Apple iPhone Emergency SOS via Satellite
Apple announced in a press release that the new Emergency SOS via satellite is now available for all iPhone 14 devices in the United States and Canada.
The demo is now available for users to test and learn how it works, and it will be available to them even if there is no signal or reception.
To maximise the feature, users should go to an outdoor location, such as the street, their yards, or rooftops.
Go to Settings and then scroll down to Emergency SOS. To begin using the service, select the "Try Demo" option and follow the on-screen instructions to connect to satellites.
After connecting to satellites, users will see a simulation of a conversation with emergency services, where they must fill out several forms to help their situation. After connecting to the satellites, they have the option to disconnect via the top right corner of their smartphone.
Is the Emergency SOS Satellite Feature Useful?
The Cupertino company stated that it invested up to $450 million in US infrastructure to make this Emergency SOS feature available to the public. The company is expanding its services to allow anyone with an iPhone 14 to connect to emergency responders and loved ones, providing their locations and situations even when there is no cellular signal.
Apple's iPhone 14 Satellite Connections
When Apple is still months away from releasing the iPhone 14, there is a lot of speculation about its ability to connect to satellites and send text messages. However, it is not what people expected because it cannot connect directly to satellites to send texts for routine needs and is only intended for the Emergency SOS feature.
It is still a useful technology, especially in areas with poor reception and signal for carriers to reach, allowing people to contact emergency services and loved ones.
The satellite feature for the iPhone 14 may only focus on the Emergency SOS feature, but there are rumors that the feature will expand to deliver satellite communications on the iPhone 15.
Despite having no signal or being unreachable, later iPhones may be able to send texts even if they are not in a life-or-death situation.
For the time being, users will only be able to use the satellite features in emergencies, and this could be an excellent opportunity to test it out and be prepared for any future issues. Furthermore, it is only available for iPhone 14 owners in the United States and Canada, with the feature soon expanding to more countries and assisting them in connecting to emergency services via satellite texts.