The electronic devices have a special place in the suitcases when it's time to pack. However, there are questions about when they are stored, particularly if the equipment is expensive and heavily used. Is the risk worthwhile? Can it be destroyed? How do I care for it?
While on vacation, electronics are exposed to elements that can harm them: sun, water, sand, and wind, both at the beach and in the mountains. These are factors to consider when caring for and conserving technological equipment because they can sustain irreparable harm. For these reasons, we provide you with the best tips and suggestions for protecting your technology while you're on vacation.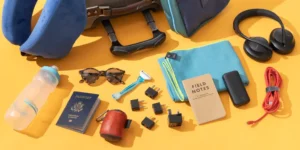 Avoid overheating
Too much sun exposure can cause your equipment to become too hot, which can harm the battery and the display's brightness. Tablets are typically the most vulnerable because they are the most portable, so we advise that you always leave them in a cool, shaded area.
It is best to stay in a tent if you are taking them to the beach. If it's a notebook, it's important to keep it off when not in use and to avoid resting it on surfaces that block ventilation when it's on. To help keep the equipment ventilated, we also advise cleaning the ventilation grilles and keyboards.
Be careful with the sand
Sand particles can impair a device's performance if they get inside. Therefore, it is advised to use a case and screen protector so that when you take it to the beach, you can avoid coming into contact with the sand. In other places, dust and dirt are a similar problem.
We advise you to remove each piece of granite carefully, without hitting or blowing it, as doing so could cause moisture to enter the particles and damage the equipment. After the holidays, we advise thorough equipment cleaning.
Also Read: Blog Post Ideas for your Health & Wellness Blog

Protect it from water
While there are currently devices that are water-resistant, it is still advisable to keep them as far away from water as you can, especially salt water, and to take the necessary safety measures to prevent them from getting wet. If your equipment should accidentally fall into a swimming pool or the ocean, you must turn it off, carefully dry it off, and then take it to a technical service, where you will be given the proper advice for each situation.
The device should be dried with a towel or absorbent paper before being left in the shade. It is not advised to put it in a dryer with high heat. Additionally, in air-conditioned swimming pools, extreme caution must be used because steam can harm is essential to wash your hands before handling the devices because body oils and creams can adhere to internal components.
Saves battery
We spend a lot of time away from the charger while traveling. This will serve as a reminder to use the equipment in the shade and will also make it difficult to see the screen in the sun. Additionally, it can be depleted more quickly by extreme temperatures and heavy use. It is therefore advisable to travel with an extra or external battery.
Maintain the security of your equipment:
The advice is simple: create a backup before leaving. Public WiFi networks are very helpful, but they also present a risk because other users who are connected could read our data. We advise you to always use a password to connect to the WiFi network that is provided by the business or that is appropriate for the location where you are. Avoid important transactions like entering credit card information online or using your bank account when using a public network. To purify the water, you can find the best buying advice for UV water purifiers.