Do you know 7 Arguments in Favor of Remote Work? any employees have grown accustomed to working remotely because it offers a flexible working arrangement throughout the pandemic. It is, in the opinion of the experts, here to stay.
The biggest social development since the conclusion of World War II, according to Ladders CEO Marc Cenedella, is the rise of remote work arrangements. According to him, employment methods were "heated up" by the epidemic, and by the end of 2022, 25% of all professional tasks will be done remotely.
Read More: Cutting-Edge Devices that Help You Stay Safe
Why remote work is here to stay
In a poll conducted in 2021, 2,050 full-time employees reported that working remotely was as as productive as working in the office, if not more so. According to survey findings, working remotely is better for mental health and work-life balance, and many respondents would be willing to forgo a wage raise in order to keep it a permanent arrangement. Working remotely has certain benefits, including:
Flexibility
There are a lot of remote jobs with flexible schedules that let you decide when your day begins and finishes. The timing of when work is finished doesn't matter as long as it is done well and has positive results. Additionally, this flexible working arrangement enables you to take care of your personal requirements, such as picking up children from school, doing errands, doing laundry, or preparing dinner. In the end, this leads to a healthier work-life balance.
Less travel stress
Traveling to and from work takes up time and can interfere with otherwise productive days. Traveling less frees up more time for you to prioritise your health, whether that means getting a little more sleep or working out before breakfast. Daily commutes have long been linked to higher stress and anxiety levels, which can be detrimental to both short- and long-term health. A stressful commute frequently causes mood fluctuations, and repeated swings from a good mood to a bad one might actually train the brain to react more negatively over time. Even a little commute can be good for your mental well-being!
More money in  your pocket
An typical commuter will spend $2,000 to $5,000 year on transportation costs. This means that even working from home just one or two days a week can result in significant financial savings. Where you live and how you commute will determine how much it costs to commute, but the real cost of commuting goes beyond the money you spend at the gas pump or station. Your professional wardrobe, coffee, and lunches out are other expenses you can reduce.
Location independence
You are not constrained by your geographic location if you operate remotely. As long as you continue to have access to a strong internet connection, you are free to work from anywhere in the world, including a small town or rural area, as well as a city that is distinct from others on your team.
Greater diversity
Employers can promote diversity and inclusion by searching out candidates with varied cultural backgrounds and ideas and hiring workers who are not restricted by geography. Employers can assist workers who require a flexible schedule, such as a mother of young children or a person who is responsible for caring for others. Those who may need it most are given the chance through this.
Environmental impact
Most folks who commute to work every day do it in their own car. Eliminating these vehicles from the road could have a significant environmental impact. Motor cars release air pollutants into the environment, including benzene, volatile organic compounds, nitrogen oxides, and carbon monoxide. These air pollutants can have a negative impact on people's health as well as contribute to issues with urban air quality such photochemical haze.
Increased productivity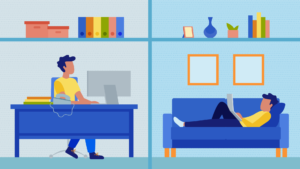 You'll have more time in your day to be productive if there are less interruptions, fewer workplace politics, less noise, and fewer face-to-face meetings. You can concentrate on performance, which is what actually important, from home. Working from home alone can boost productivity by 13%, according to a 9-month study of 16,000 employees. Less time off for breaks and sick days contributed to this improvement in performance.
The future of remote and hybrid working
Although new opportunities for remote work may have arisen as a result of the pandemic, working from home is not just possible for other reasons. There are numerous advantages to working from home, and both employees and companies should strongly consider it. Yes, there are risks, such as family disruptions and trouble unwinding, but they are insignificant in front of the benefits of remote employment. Additionally, it doesn't have to be entirely remote work; many people recognise the advantages of a hybrid arrangement. With a hybrid approach, you may divide your time between the office and your home, enjoying the advantages of both. The freedom to complete tasks when you're most productive is still possible, however
What should we learn from all this? Offices won't be discussing "hybrid" and "remote" working in ten years. Instead, these two work models will be referred to as "work" — the typical way of conducting business. Interesting, huh?