Do you know Top 5 No-Code Platforms for Development in 2023? The newest kid on the block, no-code development platforms, are transforming the software development industry. Anybody can simply design and deploy software solutions using their simple drag-and-drop interface, pre-built templates, and automated workflows. Yep, you heard correctly. No of their level of technological knowledge, anybody qualifies.
What if you have a brilliant idea for a computer program that has the potential to revolutionize a field? Nevertheless, there is one issue. You lack experience with conventional programming. Right, it seems like a dead end. Not with platforms for no-code development.
Read More: Top Social Media Platforms for Blogging in 2023
What Is a No-Code Dev Platform?
A software tool known as a "no-code development platform" enables users to design and deploy apps without having to write any code. These platforms enable the production of useful apps, primarily for the web or mobile devices, by providing a visual interface and pre-built templates and components. No-code platforms are specifically created to be usable by users with no technical expertise, allowing them to construct software solutions suited to their individual or professional requirements.
Another piece of software that enables users to design and launch apps with little to no coding is a low-code development platform. Low-code platforms, like no-code platforms, speed up the creation of apps by providing a visual interface and pre-built components. Low-code platforms, on the other hand, frequently offer more adaptability and customization choices, enabling users with some technical expertise to produce more sophisticated applications.
What Is the Best No-Code Development Platform?
Finding the "best" no-code and low-code development platform is highly dependent on the unique requirements and tastes of each firm. There are, nevertheless, a number of well-known and respected no-code systems available. These are the first five:
Quixy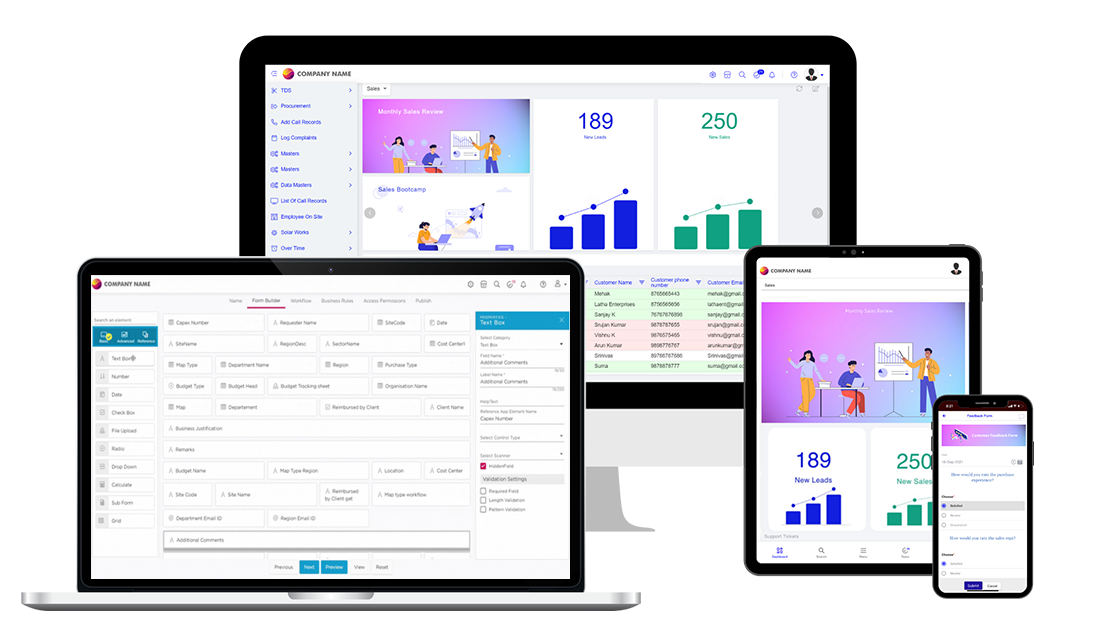 Quixy is a no-code citizen development platform that is cloud-based that allows companies of all sizes to create custom applications without the need for coding knowledge. It enables users to create simple to large enterprise-grade apps 10 times faster than with conventional software development techniques by automating forms and workflows.
Businesses can remove tedious processes, streamline operations, and swiftly transform their ideas into usable apps by utilising the platform's features. Quixy's no-code environment enables business customers to develop original concepts and unique apps that are tailored to their requirements.
Users can select pre-built applications from the platform's huge app store, or they can start from scratch and create new apps that are tailored to their particular business needs. Additionally, Quixy enables users to create transparent applications that improve workflow efficiency and productivity.
Key Features:
You may customise the app's user interface by dragging and dropping more than 40 form fields, including a rich text editor, an e-signature, a QR-Code scanner, a Facial Recognition widget, and many others.
You may model any process and create basic or complicated workflows that are sequential, parallel, or dependent on other things using an intuitive visual builder. For each stage in the workflow, configure reminders, notifications, and escalations.
Connect to third-party applications quickly by utilizing ready-to-use connectors, webbooks, and API connections.
Changes can be made without a downtime and apps can be used with only one click. It is accessible through any browser, on any device, and even offline.
Dashboards and live reports are immediately available for usage. You can plan the automatic distribution of reports through a variety of channels and export data in a variety of formats.
It has all enterprise capabilities, including custom themes, SSO, IP filtering, on-premise deployment, white labelling, and more, and is enterprise-ready thanks to ISO 27001 and SOC2 Type 2 certifications.
EasySend
A software called EasySend doesn't need users to have coding knowledge. It enables businesses to transform complex forms and procedures for gathering client information and signatures into user-friendly digital experiences. The platform enables enterprises to automate workflows and improve customer interactions by allowing the gathering of consumer data and signatures to be seamlessly linked into internal systems and procedures.
Benefits:
Give your consumers a quick and easy means to send you their data, papers, and signatures to make it easier for them to provide you with that information. Customers' overall experience can be enhanced and you will get an advantage over your rivals if you make it easier for them to provide information and sign documents.
The platform aims to make it simpler for both you and your clients to contact you and acquire the information they require for their business.
You must embrace automation if you want to stay current. You may enhance workflow and streamline current procedures by automating your front-end data collection. Customers can experience a better, simpler time by automating manual operations, and businesses can become more productive and learn more about their clients, which can result in expansion.
EasySend enables you to consistently gather reliable data in the appropriate format. This reduces processing time, mistakes, and expense. This makes sure that your papers are completed and signed, removing any concerns you may have about errors, omissions, or communication issues with your clients.
You may easily connect to EasySend digitally, which allows you to add the data you collected to your workflows and systems automatically. Digital data collection makes it simpler to obtain the information from many locations and to enter it into internal systems, business processes, and workflows.
Without the need for time-consuming and expensive development projects, EasySend's no-code technology enables businesses to rapidly and easily create appealing and user-friendly digital experiences for consumer data gathering.
Profit from enterprise-grade support to make sure the platform functions properly as they commit to being your digital partner and giving you the help you need.
Have the freedom to start the EasySend procedure from any channel or platform and select your chosen data transmission mechanism.
Use EasySend to stay abreast of technological advancements and enhance client satisfaction. They constantly develop fresh concepts and add new capabilities to their platform, assisting you in staying one step ahead of your rivals.
Key Features:
Co-browsing: This function makes it possible for customers and agents to work together in real time while collecting digital data. It makes it simpler to traverse the procedure and address concerns immediately because it enables both parties to observe and interact with the same screen.
Accessing client information and streamlining processes is made possible by EasySend's seamless integration with your company's internal systems, such as databases and CRMs. By ensuring consistency and accuracy across the board, this integration minimises the need for human data entry.
Integration with CRM: EasySend's interface with Salesforce enables automated data entry. This lowers errors, automates data entry, and streamlines your business processes.
With the help of this tool, you may convert a PDF form into an electronic process. Data gathering is made simpler as a result, and the possibility of human error when manually entering data is decreased.
Personalization: EasySend gives you the ability to design processes that are specific to your company's requirements and include conditions and validations that are tailored to them. With the help of this function, you may have more control over the digital process automation and make sure that only reliable data are gathered.
Enterprise-grade security: EasySend offers enterprise-grade security to guarantee the safety and protection of all collected data. Strong security mechanisms are built into the platform to guarantee that all data is secured and complies with industry standards like GDPR and CCPA.
EasySend's no-code platform is appropriate for a variety of businesses and simplifies data collection and workflow automation. EasySend can assist with digital onboarding and customer data collecting in the banking sector, particularly the commercial banking and credit union sectors. In contrast, the platform can simplify complicated forms used in the real estate sector, such as lease agreements and property management forms.
EasySend can be used to digitise vehicle registration and insurance forms for the logistics and automotive industries. EasySend makes it easier to collect consumer information for e-commerce and loyalty programmes in the retail industry. EasySend can aid with patient intake paperwork and insurance claims in the pharmaceutical and healthcare sectors.
Moreover, EasySend can speed up the entire claims process in the digital insurance sector, including FNOL (first notice of loss), digital claims, and P&C (property and casualty) claims.
Overall, EasySend's no-code/low-code platform offers a number of advantages and significant features that can assist companies in a variety of industries in streamlining their workflows, improving their UX/customer experience, and keeping up with the most recent technological advancements.
The greatest no-code development tool is called Easysend, and it can transform any complex form or client data gathering procedure into an engaging digital transformation experience. Businesses may streamline client interactions, guarantee data accuracy, and automate workflow thanks to this.
Softr
Softr is a no-code platform for constructing web apps that specialises in producing polished web applications and websites on Airtable. The platform aims to make web app development quick and simple. It enables users to create a wide variety of web-based applications, including websites, client portals, internal tools, markets, online communities, and resource directories.
The generated web platform can be customised in an endless number of ways with Softr. Users have complete control over the appearance and feel of their web app thanks to the tools it includes for altering colours, fonts, layouts, and other elements.
Key Features:
Interactive Softr lists: Your Airtable data can be displayed in a variety of ways with ease. Easy customization choices let you decide what information to reveal and what to keep private.
Pre-built blocks: You may instantly add more than 100 pre-built blocks to your app using Softr's enormous library of templates. They consist of sending a form, filtering data, and logging in as a user.
Form builder: Softr is a simple-to-use form builder for web apps that lets users alter button and field placements as well as layouts. It automatically saves the data from the forms in an Airtable database. This arranges the information and makes it simpler to discover.
Dynamic search, filtering, and sorting: You won't ever have to struggle to get the information you need with Softr's dynamic search, filtering, and sorting options. Data can be swiftly narrowed down with filters, and their arrangement can be easily changed with drag-and-drop sorting.
Employ Softr's gated content functionality to restrict access to certain portions of your app to users who have paid for them. You can modify the membership choices and keep track of every member account using Softr's built-in tool.
User groups and permissions: Limit who can use your Softr app by establishing flexible groups and permissions.
Design: You can modify every aspect of the appearance of your Softr app, including the background colour, typefaces, and button styles.
Zapier
With the help of the web-based service Zapier, organisations can connect several web services and automate operations without the need for coding knowledge. Zapier is a flexible platform for optimising workflows and automating numerous business processes because it supports over 3000 applications, including well-known ones like Slack, Gmail, Trello, and Salesforce.
Users can rapidly and effectively establish automated processes using Zapier's pre-built connections and workflows, which boosts productivity and lowers the possibility of human error. For instance, users can set up automated workflows to create a new task in a project management application when an order is received in an e-commerce store or to send email notifications when new data is entered to a spreadsheet.
Key Features:
Pre-built Integrations: With to Zapier's more than 3000 pre-built integrations, customers may link various web apps without having to know how to code.
Automated workflows: Users can build Zaps, or automated workflows, to set off events in one application and activate actions in another. Processes are streamlined as a result, and manual labor is reduced.
Multi-step Zaps: Without writing any code, users may connect operations from other apps to create intricate processes.
Conditional logic: With conditional logic in Zippier, users may create rules that trigger particular actions when certain requirements are satisfied.
Collaboration within the team is facilitated by Zapien's ability for users to share their Zaps with other team members.
Task history: Users may view a detailed overview of their automated workflows by using Zapien's task history tool to keep track of all Zaps that have been activated.
Zapier is adaptable, so users may create their own automated workflows and connectors to suit their particular needs.
Read More: Top 16 Alternatives to MobileMonkey in 2023
Webflow
Without knowing any code, users may create, build, and deploy responsive websites and online shops using the Webflow no-code platform. Users of Webflow have access to a visual interface that enables them to quickly and simply develop bespoke websites.
It offers a large selection of pre-built templates and design tools to assist users in creating stunning and useful websites. Users can select from a variety of templates, personalize them as they see fit, or use the drag-and-drop interface of the platform to create original designs. In order to help users construct websites with a professional appearance, Webflow also provides a number of design tools, including animations, responsive layouts, and pre-built components.
Key Features:
Freedom from Plugins: While most plugins can assist you in managing your website, they are typically short-lived. They require regular updates in order to function effectively.
Consistent Method of Development: By maintaining a consistent coding style, Webflow makes sure that the next developer won't need to undergo any training.
Reduced Time Spent on Development: Compared to conventional coding techniques, Webflow's high-level features can be developed more quickly. This drastically reduces the amount of time needed to develop a product. The interval between creating the initial designs and putting them into practice can be shortened.
The beautiful thing with Webflow is that you can offer the client access in a very controlled way. Modify the CMS that clients see.
Let clients to create their own landing pages: Some clients are so involved that they don't want to bother the website's designers and engineers with their brilliant ideas.
No-code development platforms like Quixy, EasySend, Webflow, etc. are a game-changing innovation that have made it possible for anyone to quickly and easily design and distribute software solutions, regardless of technical proficiency.
No-code platforms are revolutionizing software development by enabling people and organizations to realize their ideas because to the many advantages they provide, such as shorter development times, lower costs, and greater accessibility.