The Top 5 Standing Desks For 2023 On Amazon? Investing in a standing desk is a wonderful way to stay in shape and burn some calories because research has shown that sitting at a desk all day isn't particularly healthy. Reducing the amount of time you spend sitting offers real health benefits, but with so many options available, it can be difficult to decide which standing desk to buy.
1. FEZIBO Dual Motor Height Adjustable Electric Standing Desk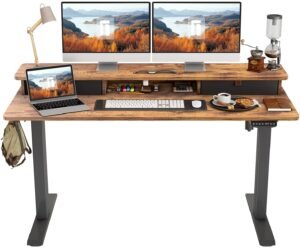 A fashionable dual motor standing desk from FEZIBO is our top choice. The FEZIBO height-adjustable desk encourages movement throughout the day, which contributes to a healthier work environment.
To provide the most comfortable desk experience, you may change the desk's simple motorised adjustment mechanism to your height. If your legs start to tyre, you can always turn this back into a sitting desk.
Read More: Beginner's Guide to NFT Avatars: Is Owning One Beneficial?
The FEZIBO desk comes with a lifetime warranty against defects, promising to fix any flaws that develop during that time.
Additionally, the desk is equipped with a cable management tray. The unsightly wire bundles are no more! Instead, tuck it to create the ideal minimalist configuration.
Set the built-in sensor to a higher number to recognise a solid object when the lifting column goes up or down to protect the table from dents and scratches.
2. SIDUCAL Mobile Standing Desk
Do you frequently move around? The greatest option for you might be the following one. The SIDUCAL mobile standing desk is extremely affordable, has excellent reviews, and might be your next desk if you need a place to lay your laptop.
With this adjustable desk for the home office, you can choose the ideal height between 26.3″ and 45.3″ and take advantage of a relaxing sitting or standing working position! Additionally, you can easily and quickly transfer the movable laptop desk to any location you like thanks to its wheels. This makes it the ideal desk to use in a school, factory, open workplace, or wherever else you'd prefer not to have a fixed workstation.
To prevent "tunnelling" or other repetitive strain injuries, the desk angle can also be changed.
Move the desk about using the four attached, high-quality, lockable wheels, which will keep it steady and in place when in use and guarantee smooth movement when not in use.
The adaptability and affordability of this desk have earned it an average rating of 4.1 stars out of 5 on Amazon from customers. For instance, a renowned Amazon author writes the following about this desk:
3. MONOMI Electric Height Adjustable Standing Desk
The following MONOMI desk is yet another superb height-adjustable option. This workstation is ideal for swiftly switching between desk height settings because it has four preset options.
A massive 208lb weight can be supported by the desk's industrial-grade steel structure, which is used in its construction. The four presets may also be easily accessed from a touch screen that is attached to the desk's base, allowing you to move between standing and sitting or, if it's a shared workstation, changing the heights for each family member.
Customers adore this desk, giving it a 4.6 out of 5 star rating on average! Reviewers on Amazon praise its excellent pricing and how simple it is to move between preset heights. Additionally, the desk has an integrated desk cable hole that makes it simple to route cables and wires—a must for using a desktop system.
Set the built-in sensor to a higher number to recognise a solid object when the lifting column goes up or down to protect the table from dents and scratches.
The desk offers excellent build quality, reliable performance, and, most importantly, great value for the list price of.
4. FEZIBO L-Shaped Electric Standing Desk
The superb L-shaped desk from Fezibo, which is the next great choice (not really, but it's quite good), is the talk of the town. This desk is appropriate for a corner workstation and has all the advantages of the earlier Fezibo desks we looked at! With its clever design, you can increase utility while saving space.
The desk has three user-mappable settings for quick height changes. The FEZIBO desk frame contains two independent motors that allow for quick, secure, and safe height adjustment. Additionally, it is as tough as nails and can support a 176lb load. (That is a lot!)
Additionally, this desk has a cable management tray that can fit a power strip and keeps cables organised and out of the way for a neat and orderly setup. The integrated desk hooks make it simple to hang your luggage or a set of headphones, clearing the floor and preventing damage to your priceless cans.
Read More: The Ultimate Guide to High-Speed Internet
With an average rating of 4.5 out of 5 stars on Amazon, customers adore this desk! For instance, a contented client wrote:
5. VIVO Black Height Adjustable 32-inch Standing Desk Converter
The following desk riser from VIVO has gas springs that allow you to change your desk from sitting to standing at various points during the day, giving you the freedom to move around, relieve muscular strain, lower your stress levels, and boost productivity.
The desk's surface is large enough for two monitors at 31.5″ x 15.7″. You have plenty of space to work as you choose, spread your data out, or even use numerous laptops.
Use the novel, easy-to-use height locking technology to transition from sitting to standing in one fluid move.
To enhance typing ergonomics and free up space when your computer isn't in use, there is an attached keyboard tray. Really cool!
This desk has a huge rating of 4.8 stars out of 5, indicating that consumers adore it. One Amazon reviewer, for instance, states: